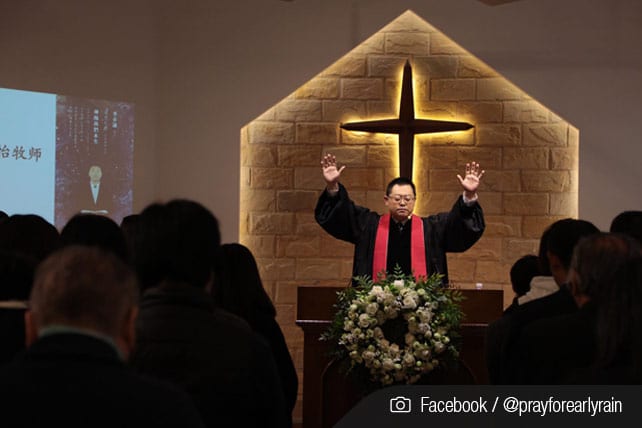 Pastor Wang Yi of Early Rain Church in China is still imprisoned. Originally being held and investigated for "incitement to subvert state power," the 46-year-old pastor is now being charged with running "illegal business activities." Meanwhile, members of the church who have been released from prison report brutal beatings and continued surveillance. 
"They want to charge Pastor Wang Yi with inciting subversion, but even they know that this isn't a very persuasive accusation," the person said. "So they are hoping for a breakthrough using economic [crimes]," an anonymous Chinese Christian told Radio Free Asia (RFA). The person likely wished to remain anonymous due to the security concerns associated with being involved with Early Rain Church. 
Wang was arrested, along with 100 other Early Rain church members in December 2018. Some of the members arrested were children. All but five members arrested in December have been released at this point, including Wang's wife, Jiang Rong. Jiang was held for six months under "residential surveillance," which means she was held somewhere that was not an official prison, but also not her home. 
Even since they've been released from prison, however, church members continue to be targeted by police and their actions are closely monitored. A Christian named Li (only her surname is provided) told RFA that 50 to 60 percent of the church's members are currently under surveillance. "Their phones and [social media accounts on] WeChat are being monitored," Li said. 
Church members haven't been able to gather for fellowship since the raid in December. At the time, authorities made the members sign a statement saying they wouldn't attend Early Rain Church again. Li explains: "There's nothing we can do. Any more than about five or six people gathered together will attract attention … and if they find you, you will be detained." 
"Illegal Business" Charges Targeting Churches Around China
The "illegal business" charges against Wang are similar to charges other Christians and churches are being slapped with. It is likely the charges are linked to a church's practice of giving out Bibles to members. Churches in China don't often charge for these Bibles, a fact which the government is either deliberately or unintentionally overlooking. 
"All the Bibles are given away for nothing. A lot of churches give away Bibles that aren't official publications, so there's no business being run here at all," Xu Yonghai, an elder of the Beijing-based house church Christian Saints Love Fellowship, explained to RFA. 
The watchdog group ChinaAid is reporting that a Christian organization in Nanping, China, the Nanping Municipal Christianity Association, which has a bookstore and sells various books, including the Bible, is being fined for "illegal business" practices. In February, a government inspection of the bookstore determined that the organization was selling books and Bibles without the proper permit. According to ChinaAid, "authorities decided to confiscate 15 copies of published materials along with the 627 yuan ($91.16 USD) deemed illegal proceeds and give them a 10,000 yuan ($1,453.85 USD) fine." 
Before the raid occurred in December 2018, Wang told reporters the authorities had confiscated 15,600 volumes of books and pamphlets from the church. Since December, authorities have also confiscated the church's properties, including offices, a kindergarten, a seminary, and a Bible college. 
What Will Happen to Pastor Wang Yi?
Pastor Wang's lawyer, Zhang Peihong, said he was informed that the investigation into his client's case concluded July 14, 2019. However, he has not been able to communicate with his client the entire time he's been in prison. Zhang tried visiting Wang on July 17 at the Chengdu Detention Center but was told Wang wasn't present and that he should go to the Chengdu Municipal Procuratorate. At that office, two officials told Zhang that they had seen him the day before that Wang "looked like he was losing weight, but looked very good mentally." However, there is a rumor circulating that Wang's hair has turned grey since being detained and that he's lost some teeth. 
Other Early Rain church members who were detained reported being beaten by police. One detainee even described being tied to a chair and denied food and water for 24 hours. Last week, ChinaAid learned some members "were treated inhumanely behind bars, forced to take unknown medicine, and strong-armed into slandering church leadership." 
It is unclear at this time what the conclusion of Wang's case will tell us, or when that information will be released. For now, Early Rain church members are fasting and praying for their pastor and other elders to be released. 
To read about the church's prayer requests, the Facebook page Pray for Early Rain regularly posts updates.
---
More News on Chinese Church Persecution:
New Chinese Translation of the Bible Seeks to Snuff Out Western Influence
Yet Another Church Forced to Close in China
Snitching on Christians Now Pays Big Money in China
You Can't Buy the Bible Online in China Right Now