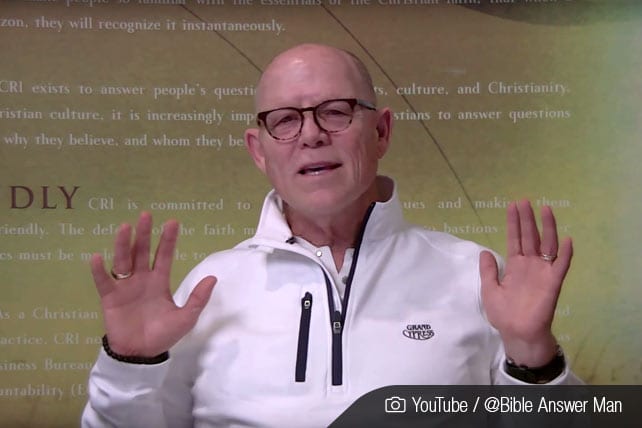 Bible Answer Man Hank Hanegraaff is out of the hospital after a nearly 40-day stay. In his latest update on his health, Hanegraaff said he almost died while he was in the hospital, but that, while he doesn't want to presume to know God's will, he believes God saved him in order to give him many more years. 
"The Lord supernaturally saved me from dying," said Hanegraaff in a video posted on July 17th. "I came within a whisper of being in the presence of the Lord, and I'll tell you…that makes you look at life completely differently."
Hank Hanegraaff Health Update
In 2017, Hanegraaff was diagnosed with mantle cell lymphoma, a rare and aggressive form of cancer that typically impacts the bone marrow and gastrointestinal tract. In the fall of 2018, he announced his cancer was in remission, and this past June he underwent a procedure called "allogeneic stem cell transplantation," where he received the stem cells of his 25-year-old son, Paul Stephen. 
Hanegraaff began his video saying, "I want to give everybody an update on my health. I am finally out of the hospital and back at home." He said he walked out of the hospital the night of Thursday, July 11th, and had never expected to be there for as long as he was. He had only the highest praise for the medical staff, calling the nurses who cared for him "beyond description." Now, he said, "I'm back at home, I'm encouraged, I'm nourishing myself on the Word of God. I'm getting in some little writings and as God gives me strength, doing various tasks." He currently has to stay in partial isolation and wears a mask most of the time if he leaves his room. 
So far, the news about Hanegraaff's transplant has been positive. While it has been a "bit of an adjustment" and he has been taking a lot of pills, Hanegraaff said the doctors are optimistic about his transplant's success. 
Hanegraaff described driving away from the hospital with his wife, Kathy, as an experience he will never forget. "It's quite something to be in a small room for 40 days and 40 nights," he said, "hooked up to an IV pole, all kinds of bags of fluids on it, getting almost no sleep because, you know, they're always taking your vitals, or something's going on, and to suddenly walk out of that hospital and see the world again…the world seemed to me a wondrous place."
Near-Death Experience
Hanegraaff almost died while in the hospital, but was unaware of his brush with death until his wife and kids told him about it later. He said he owes his life to the fact that his son David was visiting him at the hospital at just the right moment. Apparently, while David was there, Hanegraaff's speech began to slur, and he fell unconscious and had to be rushed to the ICU. Reflecting on the experience, Hanegraaff said, "to see the finger of God, visible yet invisible is a wondrous thing."
Despite the fact he is clearly fatigued, Hanegraaff's thankfulness is evident throughout his update. He expressed gratitude to his family and to God, saying, "I know that every experience that we have is precious to the Lord. The suffering that we go through is not for naught. It is used by the Lord for our salvation."
But Hanegraaff also said there is no way to measure the significance of the prayers people have offered for him. "I am so incredibly blessed to have so many wonderful people praying for me all over the world," he said. "No doubt it was the prayers of God's people that showed the invisible yet visible hand of God in prolonging my life and giving me a new lease on life."