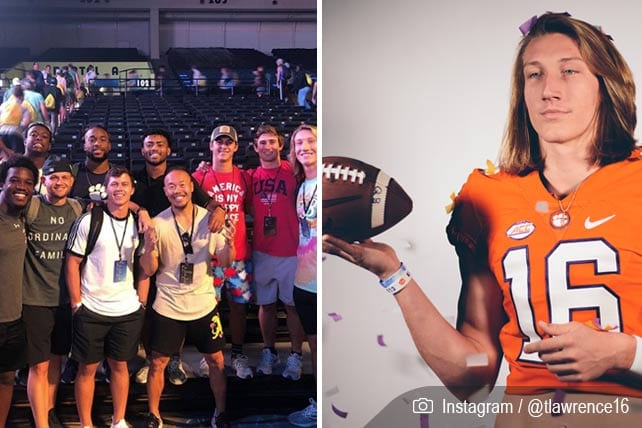 The Clemson Tigers, college football's defending champs, entered the new season No. 1 in polls thanks to stars such as Trevor Lawrence. But for the young quarterback, the true No. 1 in his life is Jesus. Ironically, the man who helped rekindle Lawrence's Christian faith initially didn't realize who the young athlete even was.
Since becoming the first true freshman in three decades to lead a team to a national championship, Lawrence is constantly approached for autographs and selfies. But when a fellow teammate first introduced him to Pastor Dan Lian, a teaching pastor at NewSpring Church in Anderson, South Carolina, Lian wasn't exactly starstruck. "I didn't know who he was," Lian admits to Sports Illustrated. "I don't follow football."
Lian, who had recently moved with his family from Australia to join the megachurch staff, struck up a friendship with the tall, long-haired athlete. The pastor soon realized that in America, football players are "demigods"—yet he began convincing Lawrence that he was "something more" than just a football player.
Youth Retreat Leads to Renewed Commitment to Christ
Lawrence, who enrolled at Clemson in January 2018, says the transition to college—with newfound freedoms plus the pressure of being the nation's top-ranked football recruit—led him to make some "not good decisions." He says, "I kind of got off track and got distracted by so many different things."
Pastor Lian recalls that Lawrence, now 19, was "overwhelmed and carrying a lot of weight," adding, "I don't think he'd ever really been challenged before. He found himself needing some context in his life."
Although the young quarterback had grown up in a Christian home, he hadn't been attending church regularly. As Lawrence grew closer to Lian, he started making the 30-minute trip to NewSpring for Sunday worship. He also joined a small group at the church with other Clemson athletes. Then during a youth retreat that summer, Lawrence rededicated his life to Jesus.
The Gauntlet, NewSpring's annual weeklong trip to Daytona Beach, Florida, is a massive undertaking, with 3,000 kids and 1,000 staff members. Lian, who works with the church's Fuse youth ministry, says the goal of the event is to "make it as clear as possible [to kids] that this Jesus cat might be a real thing."
Though Lawrence says he "already believed there was a God," during the retreat Jesus became "real" to him. Clemson running back Darien Rencher recalls that he, Lawrence, and their three roommates started discussing "big questions about their faith" and "asking each other about next steps." That's when Lawrence decided to get baptized—something that occurred at NewSpring just before the 2018 season. "I think I was truly saved last summer," he says. "It's been a cool journey."
Lawrence then led his team through an undefeated season, all the way to the championship. But he publicly proclaims that faith matters more to him than any trophies or on-the-field achievements. "Football's important to me, but it's not my life," the quarterback said last fall. "It's not the biggest thing in my life. I would say my faith is." He added, "I put my identity in what Christ says, who he thinks I am, and who I know that he says I am."
Lian: Faith Provides Trevor Lawrence "peace and context" 
For the 2019 Gauntlet retreat, Lawrence volunteered to be a staff member and was responsible for four high-school boys. Unlike last year, attendees knew who he was. "The intensity has gone through the roof," says Lian, adding that his mentee is "gracious to a fault" when interacting with fans. "It throws you a little bit," he says, "because he probably shouldn't be like that."
Lian attributes Lawrence's attitude and personality to his beliefs. "Faith for him brings peace and context into his life," says the pastor. "It bleeds into every part of his life."
Rencher, Lawrence's teammate, says relationships with Pastor Lian and other mentors have been key. "We all just started getting lunch and hanging out and going over the Word," Rencher says. "Time after time, day after day, I could see [Lawrence] growing as a man and what he said he believed. You could see his actions line up with it."