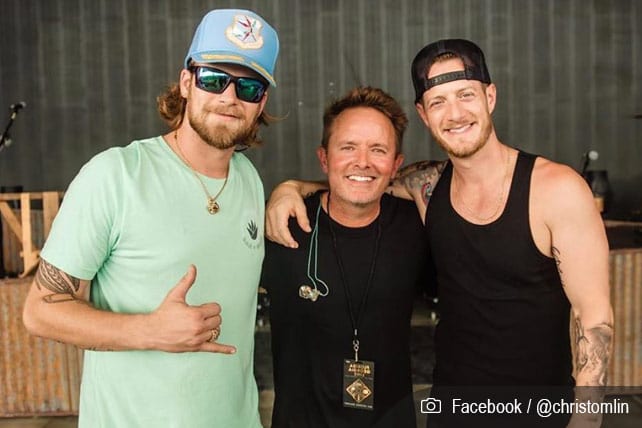 At their recent concert in Atlanta, country duo Florida Georgia Line surprised fans by bringing Christian artist and worship leader Chris Tomlin onstage. Tomlin, whom band member Tyler Hubbard described as, "one of our heroes," led the audience in his song, "How Great Is Our God," ending with the refrain from the hymn, "How Great Thou Art."
"God is good," said Tomlin in a post on Facebook where he is pictured with the band. "These two guys I'm standing next to are the real deal. Not afraid to use their stage to bring praise to God where the people are. Never seen something happen like what went down last night in Atlanta. God's kingdom is so much bigger than we know and his ways are so much higher than ours."
At one point during the concert, Florida Georgia Line's Tyler Hubbard told the Atlanta audience that he and fellow band member Brian Kelley were about to do something they had never done before, but which they had "been looking forward to for a long time." He said, "God really does have a sense of humor, I promise ya'll that. 
"A few months back," said Hubbard, "we got to meet one of our heroes, and we ended up connecting with him and building a friendship and a brotherhood. We ended up getting to write a lot of songs, we've been hanging out a ton…he's become one of our really good buddies and one of our brothers." 
Hubbard said he and Kelley used to lead worship in church, "singing songs to Jesus," and that many of those songs "were written by this guy that we're about to bring out for you guys right now tonight." Their surprise guest turned out to be none other than Chris Tomlin, who walked on stage to cheers from the crowd. Hubbard then invited the audience to sing along to one of Tomlin's songs that he said has changed the band members' lives and which the two have sung "hundreds of thousands of times in church." 
Before beginning the song, Tomlin took a moment to "give God praise." Then he began to sing the following lyrics from, "How Great Is Our God," with the audience joining him. 
How great is our God
Sing with me
How great is our God
And all will see
How great, how great is our God
Name above all names
Worthy of all praise
My heart will sing
How great is our God
As he wrapped up his time on stage, Tomlin transitioned to the chorus of "How Great Thou Art."
Then sings my soul, my Saviour God, to Thee
How great Thou art, how great Thou art
Then sings my soul, my Saviour God, to Thee
How great Thou art, how great Thou art!
Hubbard thanked Tomlin for being there, saying it was "such an honor." He told the crowd, "This is probably one of the coolest moments for us. It's really a full circle God thing." God, he said, has been "moving in our life and in our community and in our industry."
Many people who were at the concert or who saw the video expressed how grateful and encouraged they were by the moment of worship. One user wrote, "I was there that night, and it was nothing short of amazing!!! It truly brought me to tears last Saturday night. Thank you for sharing that message with so many people in attendance and now online!" 
On Twitter, Tomlin wrote, "Probably one of the coolest moments in my career… God is moving in such incredible ways!
Probably one of the coolest moments in my career… God is moving in such incredible ways! https://t.co/HGn9HdS8cS

— Chris Tomlin (@christomlin) September 5, 2019