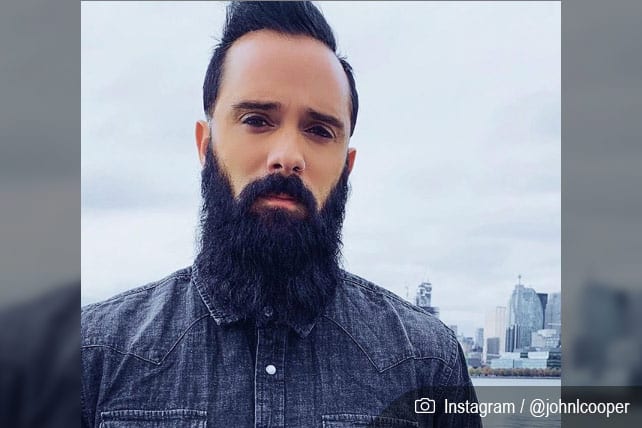 Skillet frontman John Cooper has said that he will likely be speaking out a lot more about topics pertaining to Christianity and the church. In an interview on the Dear America podcast, Cooper said he thinks the church is afraid of offending people by speaking the full truth about what it means to love God and other people. 
"I do think the church could be doing a better job," said Cooper. "I do think we're afraid, and I don't think that's good. And I don't think that Christians should feel that we need to apologize for God."
How John Cooper Has Come Full Circle
When he started his music career 20 years ago, John Cooper said he used to be more vocal about his Christian beliefs—and that was before Skillet crossed over into the secular music industry. But the Christian music industry did not like what he had to say. For example, Cooper would get on stage and say something like, "This song is about the fact that either Jesus is everything or He is nothing," and people would accuse the band of being offensive. But another band would get on stage and ask, "Who's ready to party with Jesus?" and no one would have a problem with that. The result of Cooper's outspokenness was that Skillet started getting fewer gigs. "The church just wasn't into it," he said. He sees that example as part of an overall problem in the church. 
"What I think has happened over this last 20 years," said Cooper, "is that the church has been trying to make young people happy by, in my view, not speaking truth, not speaking out about issues that the Bible seems to be pretty clear about." Instead of giving a black and white message, churches simply tell people that they need to love God and love others. "But if you don't teach what it means to love God, then people just attribute their own ideas of love to what Jesus is into," said Cooper. That is, people start with their ideas of love and conclude that because God is love, God must approve of their ideas. 
Cooper has encountered situations on the road that have troubled him, such as meeting worship leaders in Christian bands who are not even believers. Or he'll try to talk to young people about God's Word, and they don't want to. Instead, they tell him they love Jesus, but don't care for the Bible. So Cooper concluded, "The church is not doing her job," and decided to start speaking out publicly again, even if it cost him fans. In August, the Skillet lead singer wrote a Facebook post sharing his thoughts on the fact that two Christian influencers, Marty Sampson and Josh Harris, had walked away from their faith. More recently, he wrote a post in response to a CNN article titled, "Why Christian music's biggest stars refuse to change their tune for the Trump era."
But instead of fans deserting Skillet, what has happened, said Cooper, is that "the sleeping majority" woke up and thanked him for saying what they were feeling. So he plans to continue speaking out.
Speaking About the Faith and Living It
At the same time, John Cooper said, "In my view, the absolute best way to share my faith in Jesus is not by saying a whole lot." To him, being in a Christian band has a lot more to do with the conversations he has behind the scenes than it does with Skillet's music. Several years ago, he was about to go on tour with another band when one of the band members' brothers killed himself a week before the tour started. Cooper didn't know the band member very well, but he told him that Cooper and his family were praying for him every night. Cooper's daughter, who was six at the time, continued to pray for that band member for years. She ended up meeting the man again three to four years later and told him that she still prayed for him every night. The man was deeply moved when he heard her say that. "I think there's a great way to share the love of Christ without preaching at people all the time," said Cooper. 
But while "being a Christian band isn't necessarily about the lyrics," when it comes to the lyrics, Cooper said, "I like to write about what I see happening in the world." One of those issues is mental health. "One of the things I feel most passionate about is all of the young people suffering from depression," he said. "We live in a pretty great time to be alive…but people are sadder, and more teen suicides." Several rock musicians have died from suicide in recent years, said Cooper, mentioning Chris Cornell of Soundgarden and Audioslave and Chester Bennington of Linkin Park. In fact, John Cooper wrote the title track of Skillet's latest album, Victorious, for Chester Bennington. Because of the widespread tragedy of suicide, Cooper wanted to write a record encouraging people not to give up even though life is hard.
Towards the end of the interview, the Skillet frontman stressed the importance of having meaningful relationships with people, something that is difficult both in the church and in our society as a whole. "I think that the church is full of mainly really great people," he said, "but I think that a lot of people don't know what to do and we don't have relationship."
But meaningful friendships are essential and they are possible, even with people who have totally different beliefs. Cooper described the people on his team as atheistic, agnostic, and hyper-liberal, saying, "Out of my 15 employees, well over half of them, we wouldn't agree on anything, but we're best friends." We don't have to agree with people about fundamental issues in order to love them, said Cooper, so "Go out, be nice to some people that aren't like you today."