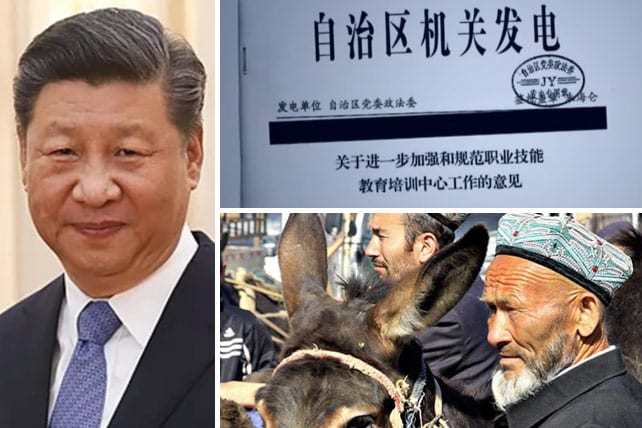 Up to 2 million people have been held in Chinese detention centers, and newly leaked secret documents reveal how China is targeting minority groups for indoctrination. For the past three years, Uighur Muslims and other minorities have been rounded up for what government officials call voluntary job training. But the documents show the centers' true purpose: wiping out minority religions, language, and culture.
Experts call the centers concentration camps and say the Uighur population in China's far-western Xinjiang region faces cultural genocide. This is happening in conjunction with a nationwide crackdown on religious freedom, which includes the sinicization of the Bible and the arrest of Christian pastors. Last week, reports emerged that the Chinese government is scanning the biometric data of churchgoers throughout the country.
The International Consortium of Investigative Journalists (ICIJ), a Washington-based nonprofit that works with 17 news organizations, received the secret documents from an anonymous source and has meticulously verified their authenticity. The information also matches accounts from numerous former detainees, who describe forms of torture, isolation, and brainwashing.
Classified materials include a manual of the camps' inner workings, four bulletins that indicate how to identify suspicious people, and a lengthy memo mandating strict punishment for misbehavior. It also outlines tactics that "promote repentance and confession…to understand deeply the illegal, criminal and dangerous nature of [detainees'] past behavior."
Secrecy is a top priority for Chinese officials, and one insists the leaked documents are "fabrication and fake news."
Secret Documents Show What Detainees Face at Camps
Minorities are being detained for suspicious behavior, ideological crimes (such as "extremist religious thoughts"), or just to prevent problems from occurring in the first place. Chinese officials say the camps are necessary to stop terrorist attacks and have been extremely effective at maintaining the peace.
Through the Integrated Joint Operations Platform (IJOP), Chinese officials conduct military-style digital surveillance. People are at higher risk of capture when they use certain apps, have a foreign passport, and conduct any kind of religious activity.
Once they're at the heavily guarded camps, detainees are sorted according to their perceived danger level. Throughout the required one-year stay, they're scored based on how well they obey rules and are transformed ideologically.
That process includes mastering the state-sanctioned Mandarin language, avoiding religious activities, and following strict rules about everything from grooming to conversations. Doors are locked, making escape impossible, and contact with the outside world is limited to once-a-week phone calls with relatives.
Punishments play a key role in the forced assimilations. "It wasn't education," says an ethnic Kazakh man who was locked up for nine months. "It was just punishment. I was treated like an animal." The inability to leave a camp or a workplace—or to know how long you'll be confined—constitutes psychological torture, experts say. Detainees also report being forced to share the names of relatives and co-workers and to make false confessions.
Only after one year can some detainees receive "vocational skills improvement," but the Kazakh man says for him that meant confinement at a garment factory. "I've never committed a crime," he says. "It was beyond comprehension why they put me there."
Though Chinese officials say fewer than 1 million people have been educated at camps, researchers say the number could be more than 2 million. In just one week in June 2017, more than 24,600 people in Xinjiang were labeled "suspicious," and more than 15,600 of those were detained for training.