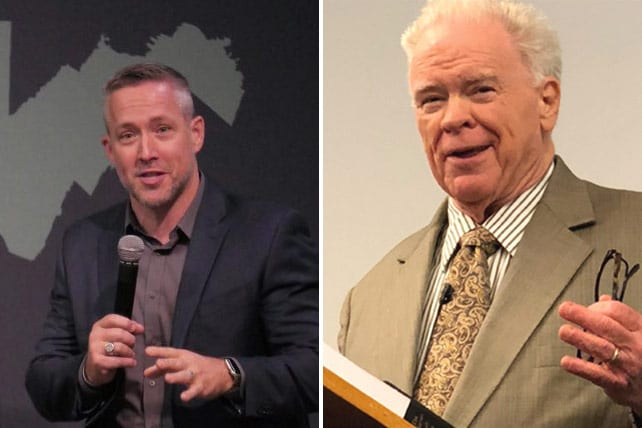 When asked about the controversy surrounding a disgraced former president of the Southern Baptist Convention's preaching engagements, current SBC President J.D. Greear urged congregations to be cautious. The Houston Chronicle, which has been investigating sexual abuse and its mishandling within the denomination, asked Greear about Dr. Paige Patterson, who was removed as Southwestern Baptist Theological Seminary's president in 2018.
"Trustees terminated Paige Patterson for cause, publicly disclosing that his conduct was 'antithetical to the core values of our faith,'" Greear said Friday. "I advise any Southern Baptist church to consider this severe action before having Dr. Patterson preach or speak and to contact trustee officers if additional information is necessary."
Patterson, a leader of the SBC's conservative resurgence, has been accused of covering up abuse allegations and mishandling complaints. He recently spoke at Victory Baptist Church in Rowlett, Texas, which presented him with a "Defender of the Faith" award. In February, Patterson is slated to appear at the Great Commission Weekend, held at Fellowship Church in Immokalee, Florida.
Abuse survivors and advocates have raised concerns about Patterson's appearances, while his defenders cite "local church autonomy." Addressing self-governance among the SBC's 47,000 congregations, Greear says, "Churches must take our mutual accountability to each other more seriously than we have in the past. If our system of governance means anything, it means exercising due diligence and heeding what those whom we put in positions of trustee oversight have reported about official misconduct."
The SBC's new Credentials Committee is overseeing reports of churches that step away from denominational doctrine or policy.
Abuse Advocates Praise Greear's Statement 
Rachael Denhollander, a lawyer and advocate who's helping the SBC with abuse prevention and reforms, says she's "deeply encouraged" by Greear's warning and hopes others take a stand, too. "Autonomy does not mean silence and lack of accountability," she tweeted. "The most important thing we can do is speak the truth and push each other towards righteousness. May we see more of this, and deeper action still."
Abuse survivor Susan Codone, a professor who's opposing Patterson's Florida appearance, also appreciated Greear's statement. "Dr. Patterson's actions have harmed many," she says. "The SBC is on a great trajectory and does not need his presence anymore." Codone's Twitter bio includes these words: "If you stand up to sexual abuse, you must remain standing."
Others Say Greear Is Overreaching
Scott Colter, a former colleague of Patterson's who also is slated to speak at the Great Commission Weekend, characterizes Greear's comments as "a monumental overreach and misuse of his role as SBC president."
Patterson, meanwhile, tells Christianity Today that Greear is entitled to his opinions. "While I read his persuasion with great sorrow, he has a right to publish his views as far as he wishes," says Patterson. "If [Greear] is accurate, I deserve it. If false, I leave the matter in the hands of God confident that God will excel in mercy and justice at all times."
Shelby Sharpe, Patterson's attorney, says his client doesn't need to address or publicize his "ministry opportunities." Instead, he says, Patterson's "sole focus is to be faithful to go where God calls him."