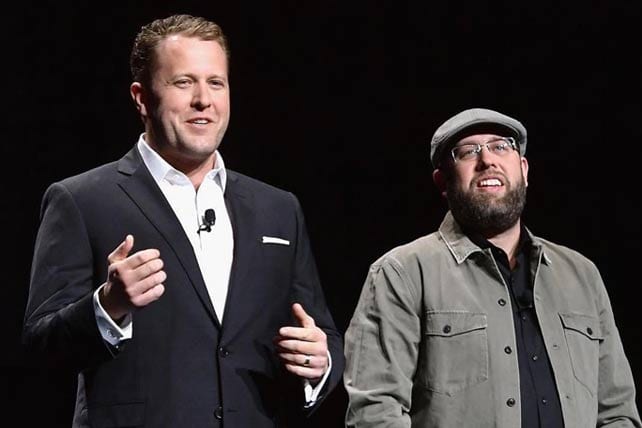 Thanks to the success of their 2018 hit movie I Can Only Imagine, Andrew Erwin and Jon Erwin—known as the Erwin Brothers —have experienced what they call "enormous opportunities." Yet they admit this career turning point wouldn't have happened without earlier failures and lots of soul-searching.
Now, as they gear up for the March 13 release of I Still Believe, a biopic about Christian musician Jeremy Camp, the duo is reflecting on how their dream came to fruition and how they can encourage other budding businesses and creative types.
Erwin Brothers Go From Birmingham to the Big Screen
Andy Erwin, 41, and Jon Erwin, 37, are natives of Birmingham, Alabama, and sons of a U.S. senator and broadcaster. Their father, Hank Erwin, taught them to "dream big, dream bold, dream the impossible," says Jon, Erwin Brothers' CEO. The siblings got their start working on ESPN football broadcasts, directing Christian music videos (winning three Dove Awards for Music Video of the Year), and producing The Cross and the Towers, a 9/11 documentary.
By 2010, the pair focused on dramatic feature films, releasing October Baby, Moms' Night Out, and Woodlawn before hitting it big with I Can Only Imagine. Though their first few movies were well-received by many Christian moviegoers, Jon admits they underestimated "the mountains that have to be climbed" to achieve success and profitability. And as Andy, the Chief Creative Officer, notes, a business model can't be sustainable unless it makes money.
Although thousands of teenagers professed faith in Jesus after seeing Woodlawn, Andy says, financial goals weren't met. So the team devoted significant time to reflection, hoping to learn from what worked and what didn't. The result is what Jon calls a 175-page postmortem document that became a playbook for the "enormous win" of their fifth film.
I Can Only Imagine, starring Dennis Quaid and J. Michael Finley, tells the story behind Christian group MercyMe's hit song of the same name. Despite a mere $7 million production budget, the movie became the top independent release of 2018, grossing more than $85 million. Andy says they had "a hunch" audiences would show up but never expected the movie would earn $17.1 million on opening weekend alone. Then—because "success…is the currency of Hollywood," Jon says—I Can Only Imagine opened doors for the Erwin Brothers to further expand their outreach. 
Joining Forces to Go Beyond Church Walls
Last year the Erwins, with partner Kevin Downes, announced a new production company, Kingdom Studios, which will develop Christian movies to be distributed through Lionsgate. Kingdom Studios will maintain creative control, and more directors will likely come aboard. At launch time, Jon Erwin told Baptist Press the partnership is similar to a "Christian Pixar or a Christian Marvel" studio, with a steady "pipeline of event movies" containing biblical themes.
On their own, says Andy, the Erwin Brothers could produce only about one film every two years. But now they're discovering the "genius" of empowering other people, assembling great teams, and cooperating. That was the hard-won lesson of Woodlawn, Jon notes, realizing they needed to "invest more in our people."