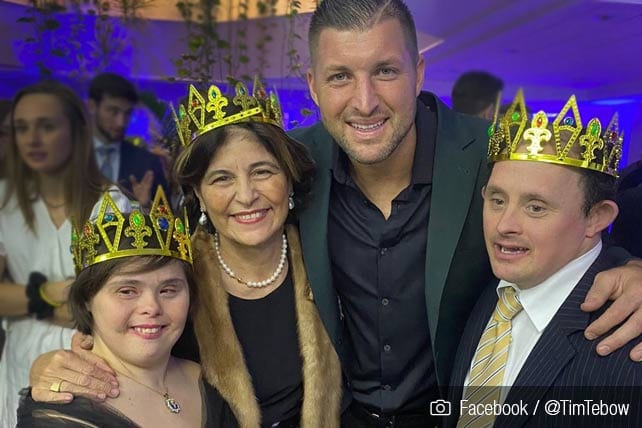 Tonight thousands of people around the world will observe Night to Shine 2020, a prom night celebrating people with special needs. It will be the sixth annual Night to Shine event sponsored by the Tim Tebow Foundation, and earlier this week, Tim Tebow and his bride, Demi-Leigh Nel-Peters, attended the first ever Night to Shine events in Albania, Paris, and Rome. At the latter location, they even got to share about their experiences with the pope.
"It was just so encouraging, overwhelming," said Tebow in a post to his Instagram page about their evening in Albania. "I couldn't communicate with that many people verbally, but there are some things that transcend language, and God's love, hugging people, smiling, joy…That's what tonight was all about." 
Night to Shine 2020
On Twitter, Tebow said, "My favorite night of the year is here!"
This year 721 churches will be showing God's love to 115,000 "honored guests," ages 14 and older at Night to Shine events across the world. The events will be made possible in part by the help of 215,000 volunteers.
My favorite night of the year is here! #NightToShine

Check out some highlights from our three international kick-off proms! 700+ Night to Shine proms happening tonight, please be in prayer for all the hosts & all of the amazing honored guests. pic.twitter.com/YO16PNmRP0

— Tim Tebow (@TimTebow) February 7, 2020
While every venue is unique, there tend to be several features all Night to Shine events have in common. Guests who attend Night to Shine 2020 will get dressed up, with volunteers helping women with their make-up and shining the men's shoes. Each guest will receive a corsage or a boutonnière and when the guests arrive at the venue (often in a limo), they will walk down a red carpet while people lined up on either side cheer them on. 
Tebow told Religion News Service (RNS) that the goal is to evoke a "Hollywood glamour" so that the guests feel loved and valued. The guests should know, said Tebow, "You are important on this night, you are valuable on this night, but more important than that, you are valuable to the God of this universe."
The attendees will then eat dinner and dance together. At the end of the night, every guest will be crowned king or queen of the prom. 
Night to Shine 2020 Goes International
Tebow and Nel-Peters have been posting on their social media channels this past week about their Night to Shine experiences in Albania, Paris and Rome. The two have danced with the guests, helped with make-up and shoe shining, and clapped and cheered people down the red carpet.
While in Rome, the couple was invited to meet with Pope Francis. Nel-Peters posted a picture of the meeting, saying, "Shared the beautiful highlights from last night's first-ever #NightToShine in Rome with Pope Francis!" 
The Catholic News Agency (CNA) observed that even though the prom is "a uniquely American event," Rome's Night to Shine was still popular with the Italians who attended it. One guest said she felt, "good, excited, happy" and her mother pointed out the blessing of giving the guests an opportunity to meet together. "I can do many things for my daughter," she said. "We go to the movie theater and so on, but it is just me and her. This is a different thing, a party with many people." Another guest told RNS, "It's a beautiful party with a lot of music and with many people! To be here makes me feel like, well, a character from the Avengers!"
After making their appearances at the international Night to Shine events, Tebow and Nel-Peters headed back to the States to celebrate Night to Shine 2020 at Liquid Church in New Jersey. Nel-Peters posted, "We're back in the USA!!! Good morning from Robby and I. He's getting ready for #NightToShine in New Jersey this evening."