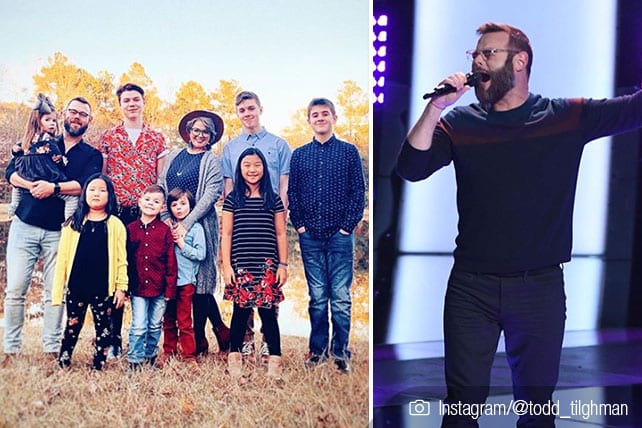 Editor's Note: To read how the competition ended, please check out our follow-up article on Pastor Todd Tilghman.
---
Pastor Todd Tilghman leads Cornerstone Church in Meridian, Mississippi and has eight children. The pastor also has an amazing singing voice and recently got the chance to audition for the television show the Voice. The result? The pastor received a "four-chair turn" for his stunning, soulful performance. 
"I've literally never performed. I just sing at church. I pastor a church," Tilghman told the Voice judges after his electrifying performance. 
Tilghman performed "We've Got Tonight" by Bob Seger & the Silver Bullet. The pastor was encouraged by his wife to audition, and confided in his congregation that he almost didn't go to the audition at the last minute. Speaking to reporters, Tilghman said, "My wife, Brooke, told me I would regret it if I didn't go. Thank God for her and thank God I changed my mind and decided to go."
Indeed it was a good thing he went because all four judges indicated they were keen to be chosen as his coach for the season by turning their chairs. A four-chair turn, as it is called, is rare. 
The Voice Judges Were Thrilled With Tilghman
John Legend shared with Tilghman that his own grandfather was a pastor and that his mother was the choir director at their church. "I was at church on Sunday morning, Sunday night, Wednesday night, sometimes Friday night," Legend said with a smile. 
Nick Jonas told Tilghman he's a "PK" (a pastor's kid). "My most fond memories were with my dad at the piano singing praise and worship songs," he said. Tilghman and Jonas then went back and forth singing a couple lines from a Phillips, Craig and Dean worship song. 
Kelly Clarkson also indicated she had grown up singing in church and commended Tilghman for his energy and his voice.
Blake Shelton also complimented the pastor's voice, which is slightly raspy sounding when he speaks. "I love your voice. I love the passion. I love the range. I love how not smooth it is. It gives you something to get ahold of." 
Shelton also complimented Tilghman on his "great hop." During his performance, Tilghman hopped up and down while he was singing. "I go to a Pentecostal church, so I've been working on my hop," Tilghman said with a smile. "That's a holy hop!" Shelton quipped back.
Tilghman picked Shelton to be his coach for the season. You can watch his stirring performance below: 
Tilghman on Being a Pastor in Meridian, Mississippi
Tilghman, a Meridian, Mississippi native, has been serving Cornerstone Church since 1996. 
On Sunday, February 23, the day before his audition premiered on television, Tilghman was at his church in Mississippi preaching and leading worship. At the service, Brooke announced the church had planned a watch party Monday night so the congregation could watch their pastor's audition premier on the Voice together.