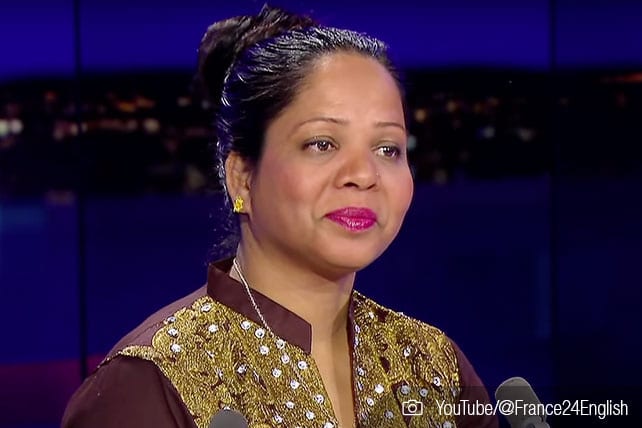 Asia Bibi has been free and reunited with her family for several months now. The Pakistani Christian mother was sentenced to death in 2010 on a charge of blasphemy against Islam. In the majority Muslim Pakistan, this charge has become a convenient way for Islamic extremists to persecute religious minorities. Now, Bibi is speaking up about the horrific ten years she spent in prison and the impact it had on her family.
"By the grace of God I have been freed," Bibi told France 24's Marc Perelman in a recent interview. "I cherish this freedom," she emphasized. 
Bibi, with the help of French journalist Anne-Isabelle Tollet, released a book in French called "Enfin libre!" ("Finally Free"). The book, due out in English in September, describes her harrowing experience in prison. 
A 10-Year Nightmare
Speaking about the quarrel that landed her in prison in Pakistan, Bibi said it stemmed from a feud that had been going on for a year. Bibi said a man in the village where she and her family lived had insulted her daughters. This led to an ongoing dispute with the head of the village. The women who ultimately brought about Bibi's imprisonment insulted her as well. On June 14, 2009, Bibi was picking berries with some women who were her neighbors. Bibi explained that June is a very hot month in Pakistan and the group needed water. When Bibi was asked to fetch the water, she says she was accused of blasphemy for drinking from the same cup as her Muslim neighbors. They used the water as an excuse to attack her, she explained.
Bibi pushed back on the women accusing her of blasphemy, saying that they should live together in peace because both Jesus and the prophet Muhammed taught such things. However, her speech didn't help, and she was incarcerated; she spent the next 10 years in prison (eight of those years were spent on death row before she was acquitted by Pakistan's Supreme Court in 2018 and again in 2019).
During the course of her imprisonment, two Pakistani officials lobbied for her release but were both assassinated. "They fought injustice," Bibi said of the men. "I cried my heart out for five whole days after each assassination." She said she still thinks of the men as continuing to live. "In my heart, I know they're not gone. They still live in our hearts and now rest with God." 
"Enfin libre!" describes the conditions she was placed under while in prison. She was chained by her neck and hands and endured verbal harassment from fellow prisoners. France 24 shared this description from Bibi's book: "My wrists are burning me, it is hard to breathe. My neck… is encased in an iron collar that the guard can tighten with a huge nut," she wrote. "A long chain drags along on the filthy ground. This connects my neck to the handcuffed hand who pulls me like a dog on a lead." 
Outside of prison, Bibi said her children paid a "very dear price." Their schooling was disrupted and they were "deprived of mother's love," Bibi said. In an interview with the BBC, the mother of five choked as she described seeing her children for the first time after being freed:
It was so strange after I met my husband and kids after so long. I couldn't understand my feelings. When I hugged my children I cried. I kept thinking about their childhood, I can't forget their childhood. When the past comes to my mind, I can see my little daughters crying. That bit of my past I haven't been able to forget.
Despite the pain she endured in Pakistan, Bibi maintains it as her country. She "loves and respects" it. Additionally, she says she has "forgiven all those who have trespassed against me." Bibi is hopeful she may be able to go back to Pakistan one day. "God set me free, and I do believe will one day have the opportunity to go home," she told Perelman. 
When asked if security is still a concern, she conceded it is. Bibi now lives in Canada with her family, but it is necessary for her to live in hiding. She says there continue to be "many threats" directed at her.