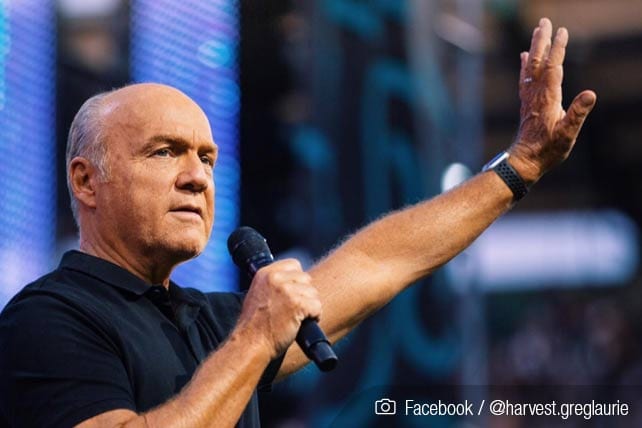 In a recent sermon, Pastor Greg Laurie of Harvest Christian Fellowship urged his congregation not to give way to fear about the coronavirus. Across the country, schools are closing, public events are being cancelled, and toilet paper is flying off the shelves, but Laurie reminded his church that, no matter what happens, God is in control.
"Everywhere you turn, people are talking about [the coronavirus]," said Laurie. "There's a lot of panic. In some ways, I think the viral fear about it may be worse than the virus itself." 
Greg Laurie: God Is Bigger Than the Coronavirus
Even though the focus of his message was to encourage believers not to live in fear about the coronavirus, Greg Laurie didn't downplay the importance of practical protective measures. People should take the basic steps of washing their hands, not touching their faces, and so on. "We want to take care of the practical," said Laurie, "but then there's the prayerful. We need to be praying about this. We need to pray for our church, we need to pray for our nation, that God would protect us. And the Lord can do that."
Laurie also encouraged Christians to respond to the coronavirus with "proclamation," meaning that because people are fearful, we have a unique chance to share the gospel. Said the pastor, "I think we should use it as an opportunity to talk to people about Jesus Christ because a lot of people are freaking out."
Toilet paper does not offer special protection against the novel coronavirus. It's not considered a staple of impending emergencies, like milk and bread.

So why are people buying up rolls more quickly than they can be restocked? Here's what experts say: https://t.co/klP0iPvhXv

— CNN (@CNN) March 10, 2020
But as followers of Jesus, we do not need to be afraid. "Here's the thing," said Laurie, "The Bible tells us, 'Don't worry about it. Pray about it.'" He quoted Philippians 4:6-7, which says,
Do not be anxious about anything, but in every situation, by prayer and petition, with thanksgiving, present your requests to God. And the peace of God, which transcends all understanding, will guard your hearts and your minds in Christ Jesus.
"Listen," he said. "God is bigger than the coronavirus. Don't be afraid."
Laurie also pointed to the biblical account of Jesus miraculously walking on the water to meet his disciples, who were in a boat in the middle of a storm. The disciples were terrified, but Jesus told them not to be afraid. Laurie alluded to the fact that Peter was also able to supernaturally walk on the water toward Jesus, but started sinking when he got distracted by the storm around him. Said the pastor, "The key is you've got to keep your eyes on the Lord."
Coronavirus Fears in the U.S.
In an article providing live updates about the coronavirus, the New York Times reports that there are currently over 740 known cases of the virus in the United States. This morning, Governor Jared Polis made Colorado at least the twelfth state to declare a state of emergency. This action gives him, among other abilities, the power to cancel public events, close public buildings, and quarantine individuals and property.