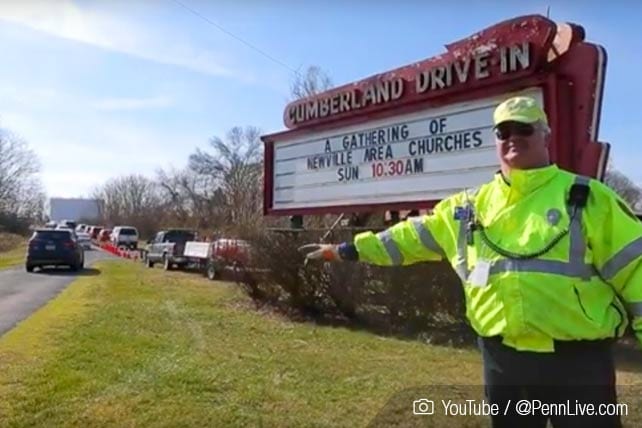 As churches struggle to figure out what worship services look like during the pandemic, leaders across the country have come up with a creative solution: drive in church. That is, congregations are holding their services drive-in-movie style.
"The word of God is so important, and here at The Rock Church we are family," said Myron Jamerson, who pastors in Watertown, New York. "I just didn't feel like doing it all online when we could come here and at least wave at each other. We might not be able to touch, but at least we can wave to one another and say hello."
Organizers set up this past Sunday's drive in service outside The Rock Church, where Jamerson preached to the cars facing him as he stood on a trailer. He told reporter Ben Muir that he got the idea for a drive in service from another church in Florida: "I thought 'That's unique. I have never seen that before, let's do that here.'" People who attended the drive in service honked their car horns instead of clapping their hands like they would during a normal church service.
"This is just a way for us to all be together without having to end up getting sick," said worshiper Desiree Zimmer. "I think this is going to be an interesting way of having church."

Congregations Across the U.S. Hold Drive In Church
It looks a little different everywhere, but congregations organizing drive in church are united in their goal of doing their best to support their members while still complying with official guidelines intended to help contain the virus. 
Piedmont Church in Macon, Georgia, also held its drive in service outside its church building. Attendees either rolled their windows down to listen or tuned in from their car radios. Said lead pastor Chris Barbee, "With all of the craziness in our world, what we wanted to do was obviously stay within our government's request and keep the gatherings low." George Jones, who attended the service with his family, said, "I think it's awesome. I think it's a great opportunity to get the kids out that have been cooped up in the house and come to as much of a live worship as we can."
One church in Indiana actually held its drive in service at a drive in theater. Eric Gawura pastors Our Redeemer Lutheran church in the city of Knox. He told WSBT 22 News that his church has been holding summer services at a drive in for over 20 years, and now, "They've graciously allowed us to use the theater and open up early…so that people can get together and worship while their churches are closed." 
The church practiced social distancing by not taking an offering and by requiring people to stay in their vehicles and listen to the sermon via their car radios. Congregant Dorene Lloyd said, "In a time like this, when we're separated from the whole world, it's nice to be able to at least see other people."
In a similar fashion, churches in Newville, Pennsylvania, are collaborating with a local drive in theater to provide drive in church for people in town. Cumberland Drive-In owner Jay Mowery told PennLive.com that he and Pastor Jeffrey Kettering realized that a drive in church service was important for people who have limited resources and are unable to livestream. Said Mowery, "We wanted to comply with the Governor's request on gatherings, but we realize that some people are not connected to the Internet."
"When it comes to drastic situations," said Kettering, "you have to think outside the box." Mowery said they would have been happy to see 50 cars show up to drive in church on Sunday morning, but what actually happened was 300 cars showed up—meaning there could have been anywhere from 600 to 800 people in attendance. Said Mowery, "I was just trying to fill a void for people. We are a community of faith in this little area. It was a testament to our community that this many people came out."
Many are acknowledging how thankful they are to get out of their homes and see other people, and this ability is particularly important to those who have mental health challenges. Ahnna Jackson, who attended The 3D Church's drive in service in Lithonia, Georgia, said, "I have anxiety, and mental health is a huge thing, and so being around like minded people, while being safe in our cars, is a huge relief." 
Other states that have churches implementing the driven in service idea include Texas, Tennessee, Iowa, and Washington State. Retiree Patty Book attended the drive in service held by Shadle Park Presbyterian Church in Spokane, saying, "It's so different, yet I think it's a great thing to have happen." She added, "I think everybody is starting to feel it." The church passed out sanitary communion supplies and also handed out activities for kids by using long claws. Organizers with Shadle Park Presbyterian even provided food for members by placing meals in the trunks of their cars.
The church is joining many others in doing its best to help people be safe while still providing them with emotional support. As lead worshipper Terry Echegoyen commented, "Even though we are socially distant, we are not spiritually distant."