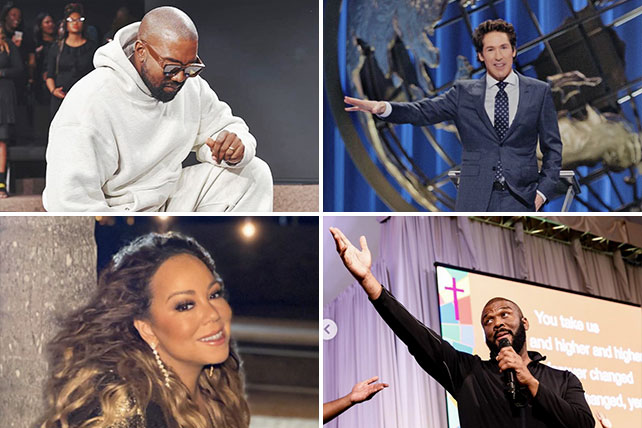 To share a message of hope during the pandemic, Pastor Joel Osteen will welcome several celebrities to the virtual Easter 2020 service at Lakewood Church in Houston, Texas. Mariah Carey, Kanye West, and Tyler Perry plan to join Osteen remotely on Friday to record Sunday's worship service.
On Easter morning, the service will be available online and also broadcast on Houston TV station ABC13. Last weekend, an estimated 5 million viewers tuned in to Lakewood's livestreamed Palm Sunday service.
Joel Osteen: 'People are wanting to share hope'
Lakewood is adding several "unique segments" to its Easter 2020 service, Osteen says, because "people are wanting to share hope, and they're looking for avenues and platforms." Pop singer Mariah Carey wanted to honor first responders, the pastor says, so she'll sing her hit "Hero" while footage of local workers is shown.
The service also will feature pre-recorded prayers from Houston's police and fire chiefs.
Rapper Kanye West, whom Osteen calls "one of a kind," will sing with his choir from California. "I don't know what it's gonna look like," the pastor admits. West attended Lakewood last November and has been performing at recent high-profile worship events.
Hollywood heavyweight Tyler Perry will offer words of encouragement as well, Osteen confirms. The actor, director, and producer has spoken at Lakewood Church before, and is "very inspirational," according to Osteen.
Lakewood's Easter plans are receiving lots of publicity, with TMZ predicting "it will be one of the most star-studded church events ever." 
Osteen Wanted to 'step it up a notch' for Easter 2020
Before the pandemic shuttered large in-person gatherings, Osteen's nondenominational megachurch had a weekly attendance of more than 50,000. Like most U.S. churches, Lakewood has temporarily moved to online services to help prevent further spread of the coronavirus.
With the pandemic predicted to peak soon in many areas, Osteen says, "There's so much uncertainty and fear, and people are worried." Speaking about his church's Easter plans, Osteen says he asked himself, "How can we step it up a notch and just let people know that, 'Hey, we're gonna get through this'?" The pastor adds, "I don't have all the answers, but God's gonna help us and give us the strength to move forward."
Preaching online to an empty church—especially on Christianity's holiest day—will be "really odd," Osteen admits. "I've never done it in 20 years, so…you just have to imagine people are there."
The pastor previewed his Easter 2020 sermon by saying, "Part of the message is going to be in these difficult times to know that God is still directing our steps, he has us in the palm of his hand, it's not a surprise to him. We will talk about the resurrection of the Savior as well, but I think part of it will always tie into choosing faith over fear."
Lakewood's website notes: "It has always been a priority for us to offer our members and our guests a safe and healthy environment to worship and take their next steps towards Jesus."