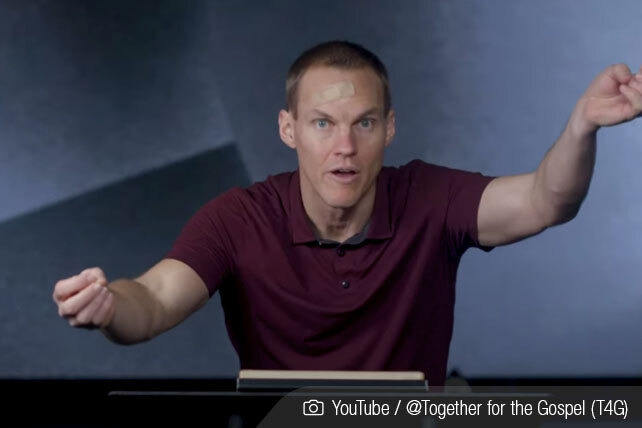 Pastor David Platt of McLean Bible Church in Vienna, Virginia, has a challenge for American Christians: Devote yourselves to significant times of prayer, recognizing your desperate need for God. A little over a year ago, Platt was convicted that he needed to spend more time praying and to lead his church to do the same. So the church started holding all-night prayer meetings.
"Since we have started doing these late, all-night prayer gatherings as a church," said Pastor David Platt, "we have seen more people confess Christ in the last year than I have ever seen in any church I've been a part of." The fruit the Holy Spirit has brought about simply because they have spent more time praying has been incredible. 
Platt said that when he asked himself why he had never really prioritized prayer until recently, he came up with only one answer: pride. 
"Why have I been a prayerless pastor?" he asked. "Because I have been a prideful pastor." To the American church, he says, "Brothers and sisters, we need to learn to pray."
An Exhortation from Pastor David Platt
Platt began by reading John 15:5, where Jesus says, "I am the vine; you are the branches. If you remain in me and I in you, you will bear much fruit; apart from me you can do nothing." The pastor then went on to share how God did an "unusual, unexpected work" in his heart when about a year ago he travelled to South Korea to preach. 
In 1900, said Platt, less than one percent of the Korean population was Christian. But a century later, South Korea alone had over 10 million Christians. Now, South Korea is second only to the U.S. in the number of missionaries it sends worldwide. This is remarkable because the population of South Korea is the same as the combined populations of California and Florida. "In one century, South Korea went from having hardly any Christians to being a global center for Christianity," said the pastor. So how did that happen?
It happened because of the Pyongyang Revival in 1907 when church leaders gathered for a Bible conference of 1,500 people. Ahead of the conference, ministry leaders, including Koreans and foreign missionaries, desperately sought God for repentance and revival. While they were preaching at the conference, the leaders were struck by their own personal sin and need for repentance and began confessing their sins publicly. People in the audience followed suit and started spontaneously confessing sin in an experience similar to Pentecost. Prayer and confession, accompanied by weeping, spread throughout the audience and continued as the conference went on, leading to revival. 
The movement spread throughout villages and churches. Said Platt, "People were coming to know Christ left and right." Believers would meet early in the morning to pray and would also pray all night, traditions that continue in South Korea to this day.
Platt concluded, "Fruit in Korea began to flow when leaders in the church realized they could do nothing apart from Christ. When they realized all their plans and all their labors and all their strategy and all their sermons were insufficient apart from desperate devotion to prayer."
But when he considers the church in the U.S., the pastor said, "I can't help but think we are totally missing this." When Platt looks at the American church, even the church he pastors, he said, "I don't see this kind of hatred for sin and humility before God to the point that when we gather for worship, we weep over our sin. When was the last time that happened on a Sunday morning at your church?"
The fact is many of us have never expressed such sorrow over our sin in a corporate setting, even though we have attended church for years. Instead, we are content to consume what happens from the stage once a week and then go on with our normal lives. Platt asked, "What would happen if at some point we just stopped and said, 'What are we doing?'"
What if, like the Korean believers, we started crying out to God and confessing our sins, sins that we've hidden, and repented over them with weeping? Platt asked, "Why does that even seem unusual to us?" The pastor said he hesitates to ask such a question because he knows that repentance and revival are not something we can manufacture. Only the Holy Spirit can open our eyes to our need for God.
But when he returned from South Korea having witnessed an all-night prayer meeting for the first time, Platt decided to start all-night prayer meetings at his church. So his church has been holding night-long prayer gatherings throughout the past year, sometimes meeting from 8 p.m. to midnight and sometimes from 8 p.m. to 6 a.m. "These nights are awesome," he said. "They have become my favorite times as a pastor. I am so sorry I have never done this personally or led the church to do this before."