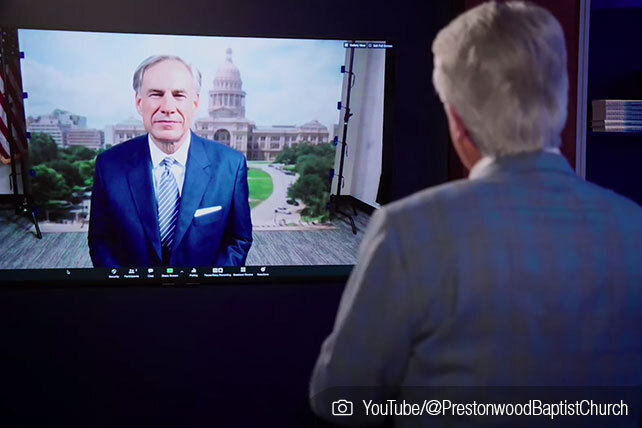 Emphasizing that safety and health are paramount, Texas Governor Greg Abbott is discussing ways to allow people "to get engaged in the world again." Speaking to Pastor Jack Graham during Saturday evening's online worship at Prestonwood Baptist, a Plano megachurch, Abbott said, "We need to open up our churches to allow you all to be able to congregate and celebrate once again." The governor also discussed his own personal faith test and urged people to "put your faith in God," who helps us through life's storms.
'Texas wants to lead the way' Abbott Tells Pastor Jack Graham
Abbott, a Republican, shared how Texas plans to gradually reopen while preventing further spread of the coronavirus. "People are tired of being stuck at home, and they want to get back out," he said, adding, "Texas wants to lead the way in opening our state back up."
The governor's "phase-in" plan includes allowing more medical procedures, allowing "retail-to-go" services, and getting people "back to work and earning a paycheck" because "the livelihoods of too many Texans have been compromised." As evidence of that, Abbott pointed to food banks in the state that have been "overflowing with people."
When the governor discussed reopening houses of worship, Graham—a member of President Trump's Evangelical Advisory Board—said Prestonwood will cooperate with state leaders because it wants to be "part of the solution," not part of the problem. During the pandemic, Graham's congregation has been holding blood drives, distributing free meals, and advising people who've lost their jobs. Graham told Abbott he appreciates the governor's strong leadership and said church members are praying for him.
Gov. Abbott: God Offers 'a pathway' Through Storms
Abbott briefly spoke about being paralyzed at age 26—and how his faith grew as a result. While he was jogging after a storm, a tree fell on him, breaking his back and confining him to a wheelchair. That tested his faith, Abbott admits, because you wonder why God would let something like that happen. But afterward, as he kept reaching out to God, the governor "found God reach back out to me." His relationship with Jesus "grew even closer after the accident," he says.
During the interview, Abbott told listeners that God doesn't promise us "a life free of storms" but rather "a pathway through those storms." He described how social distancing has been effective in Texas, flattening the virus' curve and putting his state "into a position where we are going to open up in safe ways."
The governor continued: "God's hand is working through the scientists across this great nation by coming out with fast, innovative drugs that would lead to therapeutic remedies…and eventually immunizations that will get us beyond this episode in our lives."
On Saturday, President Trump tweeted that he'd be watching Prestonwood's online worship the next morning. Trump held a conference call with faith leaders on Friday to discuss a phased-in return to in-person worship. Graham, who participated in the call, says the conversation revolved around "how would we go about bringing people back together…carefully and gradually, and not put people at risk."