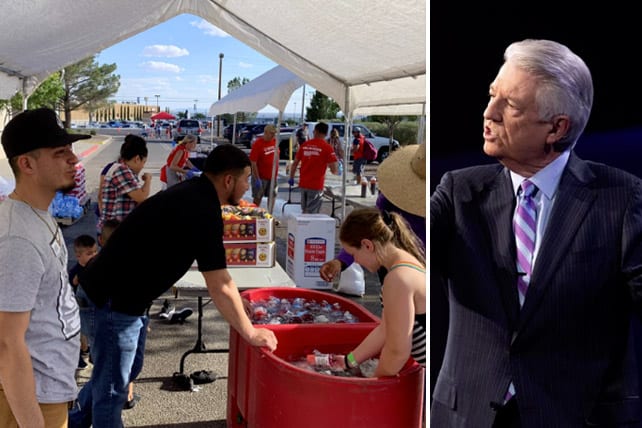 While several American cities braced for raids aimed at undocumented immigrants last week, volunteers from Prestonwood Baptist Church in Dallas, Texas offered support and appreciation to Border Patrol agents and their families.
The 42,000-member Southern Baptist congregation, which regularly conducts outreach to migrants, turned its attention to government employees tasked with maintaining order along the U.S. border. In a mission trip dubbed Operation Border Blessing, a team from the church delivered food, backpacks, and other items to agents and their families in El Paso, Texas.
Mike Buster, Prestonwood's executive pastor, tweeted: "We supplied backpacks, inflatables, give-aways. They were so grateful [and] some in tears, telling us that nobody appreciates what they do." Border Patrol agents, often stretched thin, have been praised for showing compassion while doing tough jobs; others, however, have recently faced accusations of misconduct and racism.
Along the Border, Need and Controversy Abound
Prestonwood's commitment to help immigrants while supporting governmental policies and leaders reflects the tightrope many evangelical Christians and organizations now walk. While most recognize the need to provide humanitarian assistance regardless of people's citizenship status, some say that must be balanced with supporting the government's efforts to secure the border.
Prestonwood lead pastor Jack Graham has supported President Trump and served on his evangelical advisory committee. Graham and Buster also both defended Customs and Border Protection employees last month when questions arose about crowded, unsanitary conditions in detention centers.
Yet Prestonwood reportedly spent $64,000 on immigration relief efforts last year, providing food, clothes, and other necessities to detainees throughout America. Presidential daughter Ivanka Trump made headlines by donating $50,000 to the church's efforts. At the time, Graham said, "The beauty of America and the people in our church is that we don't have to wait for our politicians to sort out their disagreements in order to do what is right. Our country is facing complex issues that will take time to fix, but this shouldn't delay or stop our response to the needs of others."
Buster, meanwhile, wrote on a Prestonwood blog that migrant outreach "is part of our DNA as a church, and we consider it a calling to be the hands and feet of Jesus Christ to those in need." He added, "We will continue to assist immigrants—whether they're along the border or in our community."
Border Patrol Agents Are Also "caught up in the crisis"
Other congregations have shown support for border officials too, according to Bee Moorhead of Texas Impact, an interfaith advocacy group. "Law enforcement at all levels of government are members of many faith traditions, and it's important that their faith communities provide pastoral care to them," she says. "It also helps to highlight how the dehumanizing impacts of the Administration's policies fall on everyone who is caught up in the crisis."
At the progressive Christian organization Sojourners, Sandra Ovalle urges that dignity be afforded to everyone involved. "I would expect the same churches who are actively supporting Border Patrol agents and their families to publicly condemn the racist and sexist rhetoric used by [Customs and Border Protection], citing their behavior as a reason we should be wary of the actions and words condoned behind closed doors."
Ovalle, an immigration campaign coordinator, adds that the entire process should be scrutinized to ensure respect for humans. "As a nation, it is easier for us to believe that abuse is not happening," she says. "We must fully understand how our current immigration system assaults the image of God within those at the border."
"Christians belong at the middle of the mess"
The border crisis isn't limited to border states, with many undocumented migrants—adults and children—being housed throughout America. The faith-based nonprofit Bethany Christian Services contracts with the U.S. Office of Refugee Resettlement to care for unaccompanied minors, overseeing foster care and group homes in numerous states. Bethany has promised to continue recreational and educational activities for migrant children through private donations if government funding ends.
Though the nonprofit has been accused of everything from separating families to assisting illegal immigration, Bethany employees are committed to continuing their work. "These are some of the messiest situations out there, but Christians belong at the middle of the mess because that's where Jesus would be," says president and CEO Chris Palusky.