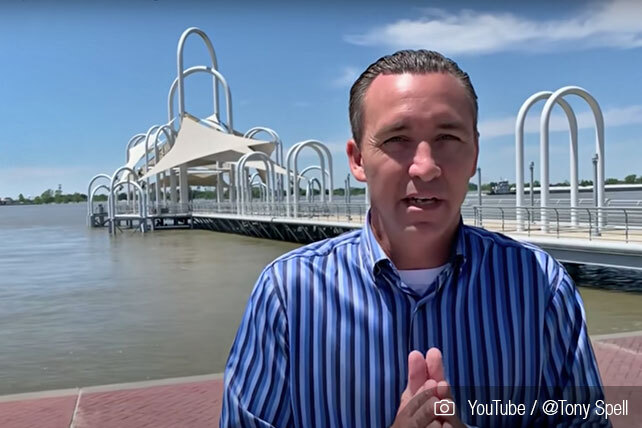 Pastor Tony Spell of Life Tabernacle Church in Baton Rouge, Louisiana, is stirring up controversy again by asking people for their stimulus money. Spell has already made headlines for continuing to hold in-person worship services long after the governor banned them. As of the first week in April, an attorney representing the church has been hospitalized after contracting COVID-19, and one of the church's elderly members has died from complications due to the coronavirus. The pastor has flatly denied the coroner's conclusion about the church member's cause of death.
"That is a lie," Spell told WAFB 9 News when asked about the coroner's findings. The pastor claimed the man died of other causes, adding that he was a "great member of the church" and one of Spell's "right hand men."
Life Tabernacle Church's Attendance Reportedly Drops
Since the middle of March, Spell has repeatedly flouted Governor John Bel Edwards' ban on gatherings of more than 50 people. Instead, upwards of 1,000 congregants have been meeting for worship at Life Tabernacle Church, which has even bused some of the attendees in.
On March 31, officials charged Spell with a misdemeanor for six counts of violating the governor's order. This did not faze the pastor, however. According to CNN, Spell held a Palm Sunday service (April 5), which was attended by around 1,220 people. The pastor's argument for defying authorities is that they are infringing on church members' religious rights and are being inconsistent by banning in-person worship while allowing people to shop at stores.
"We aren't breaking any laws," said Spell. "We have a mandate from the word of the Lord to assemble together. The first amendment says that Congress shall make no law prohibiting the exercise of religion." Spell's reasoning aligns with that of other pastors in the country, including one in Florida, who was arrested for ignoring a safer-at-home order. That pastor subsequently canceled in-person services, blaming the "tyrannical government" for compelling him to do so. 
The Advocate reports that attendance at Spell's church dropped significantly after Palm Sunday and that only 130 people were present at the Easter service on April 12. Spell disputes that number, which was reported by law enforcement, and maintains that over 1,300 people came on Easter. "The cops are liars," he said. 
The attendance drop follows the death of the Life Tabernacle Church member and the hospitalization of the church's lawyer, Jeff Wittenbrink. Wittenbrink is the local counsel for Roy Moore, a former Supreme Court chief justice for the state of Alabama. Moore is helping Spell fight a legal battle defending the church's right to continue to gather in-person for worship. 
It is not known where the church member and the lawyer contracted Covid-19. Despite the fact he has come down with the illness, Wittenbrink said he still believes that the pastor and his church are on the right side of their legal fight. "I'm very proud of Pastor Spell," he said. "I think he's one of the few people who understands we shouldn't just throw away our civil liberties without a fight just because there's some kind of crisis going on."
Life Tabernacle Church Accepting Stimulus Money Donations
In a video posted to YouTube on April 15, Spell announced the #PastorSpellStimulusChallenge. He said he is asking people to take the $1,200 of stimulus money they will receive from the government and donate it to North American evangelists, missionaries and music ministers "who haven't had an offering in a month." People can give that money through the church's website, said the pastor, who added that he, his wife, and his son have already donated theirs. 

CNN's Victor Blackwell asked Spell why he would ask financially vulnerable people to donate their stimulus money, pointing out the church gives rides to people who are unable to make it to services otherwise. "The #PastorSpellStimulusChallenge is to help people who do not get stimuluses, such as evangelists and missionaries," replied the pastor. These are people, he said, who have not had financial support for five weeks now. 
Why, asked Blackwell, is the church not applying for the government's Paycheck Protection Program (PPP)? The PPP allows faith-based organizations to apply for federally-backed, forgivable loans, even if the organizations do not provide a secular service. "We don't want to," was the pastor's answer. 
"We do not want SBA loans," he said. "We don't want the government to give us a dime. Never will our federal or state government put one penny into our church, because the second they do, they control us." Some have observed this argument seems odd since the stimulus money Life Tabernacle Church is willing to accept also comes from the government.
According to Spell, the church is not forcing people to give their money away, but rather, "We are challenging you [to give] if you can."