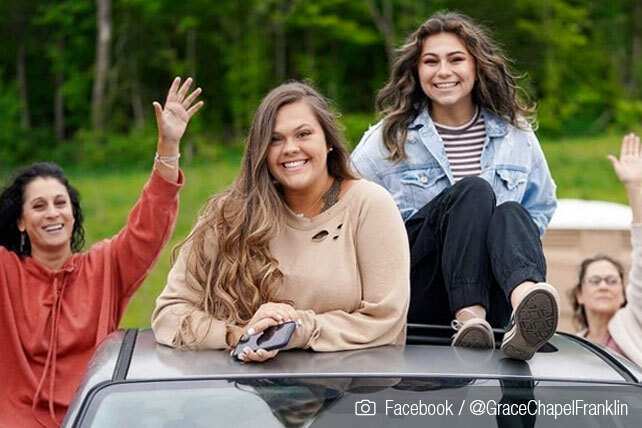 Pastors with more than 20 local churches came together Sunday to hold a drive-in church service in Franklin, Tennessee. Hundreds of people attended the event, which was called Beyond Our Walls and which featured worship, prayer, and an appearance from Governor Bill Lee. 
"Thank you for everything that every one of you are doing," said Lee, addressing the hundreds listening and watching from the safety of their vehicles. "Thank you for doing your part to stay apart. Thank you for loving your neighbors as yourself…Thank you for serving in non-profits, and thank you for serving in your neighborhoods, and thank you for serving the elderly."
Lee also thanked healthcare workers and first responders as people in the audience "applauded" by honking their horns. "Thank you for putting your lives on the line," he said. "And thank you for praying." He concluded, "And thank you for having hope. You know, in this world we'll have many troubles, but we know where our hope comes from, and he has overcome the world."
Hundreds Attend Beyond Our Walls
Beyond Our Walls was held at the Williamson County Agricultural Center with the approval of local, state, and national government leaders. Attendees listened through their car radios, and large screens were mounted next to the stage so that people could see better. 

"This is sending a message to our people that worship as they have known it in the past, it will continue," said James Lowe, pastor of Bethel World Outreach Church.
One of the main purposes of Beyond Our Walls was to bring people together in worship while still being sensitive to the dangers posed by the coronavirus. On the event's Facebook page, the organizers observed, "We live in a world that is politically, socially, and spiritually charged. It seems that no matter what you do, say, or think, half of the world is angry at you and aggressive toward you." With that in mind, said the leaders, "We want to be good citizens in the immediate crisis, while simultaneously not wanting to contribute to the long-term infringement upon our cherished religious freedom."
Beyond Our Walls also took donations to support One Generation Away, a local, mobile food pantry that provides healthy food to families in Middle Tennessee. The non-profit has been particularly stretched recently because of the tornadoes that hit the area in March and because they have been assisting young people who are unable to get lunch at school.
The organizers of Beyond Our Walls put the event together in only a couple of weeks. In addition to the appearance from Governor Lee, the service featured a video message from Secretary of State Mike Pompeo, who thanked the attendees for supporting religious freedom. Nicole C. Mullen, Francesca Battistelli, and Rita Springer were among the musicians who performed, and throughout the service, local pastors prayed and spoke words of encouragement. 
Pastor Steve Berger of Grace Chapel said, "We had a lot of work to accomplish very fast to get the permissions from everybody involved, from the government on down, and so it's all come together really quick, and we're very grateful for so many pastors who came together to see something successful happen."
According to the Facebook page, at least 767 people attended Beyond Our Walls. One person said, "It's great to be out of the house in a safe and sensible way, and able to go to church again, even if it's different than a typical Sunday."