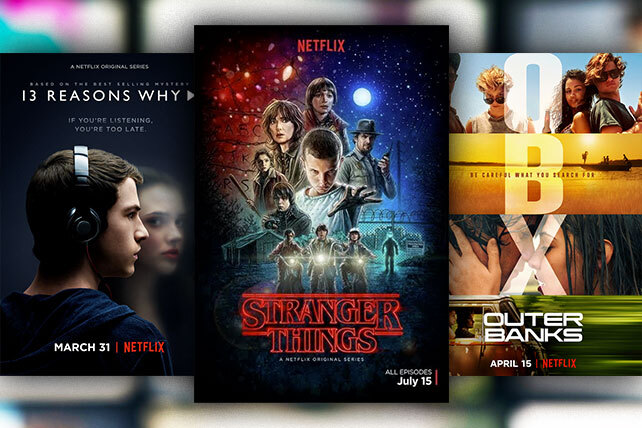 A new report from the Parents Television Council (PTC) has found that the most common rating on Netflix's teen programming is TV-MA. Because the TV-MA rating designates content for adults and not teenagers, this means that "by definition, the programming is unsuitable for the audience for whom it is intended." Moreover, the study found "harsh profanity" to be "nearly ubiquitous" in content rated for teens.
"Either the content is being rated inaccurately, or there has been considerable 'ratings creep' with the criteria used to determine an age-based rating," say the report's authors. "Neither option allows parents to do their job effectively. Netflix is marketing explicit content to children, and we call on the company to cease doing so immediately."
Parents Television Council: Netflix Is Failing Parents
The report from Parents Television Council is timely considering that people have been consuming more media due to sheltering at home because of the coronavirus. According to market research firm Nielsen, media consumption rose by 85 percent in the first three weeks of March. A report from global technology company Morning Consult found that Netflix is the top streaming platform consumers have been using during the pandemic. Other data show that television consumption has increased throughout all hours of the day.  
Kids technology company SuperAwesome found that children are spending up to 50 percent more time in front of screens than they were before the pandemic. Another study found that 65 percent of parents admitted to letting their children watch more television and movies since being locked down. With these numbers in mind, Parents Television Council sought to answer the following questions:
What are teenaged children seeing on the most popular streaming platform, Netflix? Can parents trust that a program, which is listed on the Netflix program guide in the "teen" category, is actually going to be appropriate for their teens—or pre-teens—to consume? And can parents trust that a program carrying a teen content rating is actually safe for their children to watch? 
The study looked at teen programming as of April 6, 2020, assessing it for mature language and ratings. The report did not directly evaluate Netflix's programs based on violence, sexual content, or mature themes. Note that Netflix uses the Motion Picture Association (MPA) rating system for films and the TV Parental Guidelines content rating system for television series. 
PTC found 255 separate programs in the 23 categories (Teen Comedies, Emotional Teen Dramas, etc.) Netflix has designated for teens. Ninety-six of these programs are Netflix Originals. In addition to investigating the ratings, PTC used content filtering service VidAngel to examine the profanity in Netflix Originals "for which filters were available." 
The report found that the majority of shows for teenagers have a mature rating. Of the 255 programs aimed at teens (again, which include movies and TV shows) 40.8 percent are rated TV-MA. Out of the 96 Netflix Originals, 55.2 percent are rated TV-MA. 
Nine percent of the 255 programs are rated R, which is equal to the percentage of shows rated PG-13. Nearly 26 percent (66) of the programs are rated TV-14. PTC was able to use VidAngel to analyze 11 shows rated TV-14 and found that all of them contained the s-word multiple times and almost all of them included the f-word at least once. For example, the hit show Stranger Things (which is rated TV-14 and has currently released three seasons) contains the s-word 257 times and the f-word 11 times. "It is useful here to remember," say the authors, "that under the MPA ratings system, more than one use of the 'f-word' is enough for them to change the age restriction from 'PG-13' to 'R.'" 
Parents Television Council concludes that Netflix (which is not regulated by the Federal Communications Commission) is not only out of touch with the concerns of parents but is also not being faithful to its own definitions. On its website, Netflix lists the TV-MA rating in the "Adult" category, but has still directed a great deal of content with that rating at a teenage audience.
The report calls for "wholesale reform" to entertainment rating systems, as well as for accountability from those who have no ulterior motive for marketing explicit content to minors. The authors conclude,
We are unsure whether Netflix—in its application of content ratings and in its determination of what is appropriate for "Teen" audiences—is acting in bad faith, or if they're just plain sloppy. Regardless, we hope this report serves as a clarion call for Netflix to step up immediately with meaningful engagement on this issue, and with a corporate commitment to implementing remedies to address our findings.