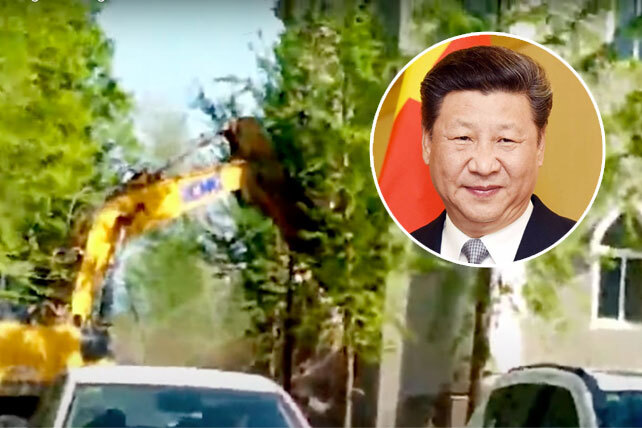 Editor's Note: Since the publication of this article, Bitter Winter has reported that between January and April of this year, the Chinese government has removed at least 250 crosses from state-approved churches in China's Anhui province.
---
The Chinese government is ramping up its persecution of any church in China, even if it is a Three Self church, which is approved by the state. The reason the Chinese Communist Party (CCP) is oppressing the very churches it has endorsed seems to be that the party increasingly sees Christianity as inherently Western and therefore inherently opposed to China.
"We have to do whatever the government tells us to," said the director of a Three Self church in Jiangxi province, according to watchdog site Bitter Winter. "We've proven our patriotism, donated money to help curb coronavirus in Wuhan, as they had required. Still, the government says that our church grew too rapidly, and they fear that having many believers is unfavorable to them." 
The church is located in Jiangjia village in Yangbu town. On April 21, authorities removed the church's cross, and three days later, they closed the church after removing chairs and religious symbols from the building. The church's director said, "We don't know what to do now."
Authorities took the same course of action with a Three Self church in Gaojia village in Yangbu town, removing chairs and religious symbols and shutting the church down during the last week in April. One official said, "Believing in Jesus is prohibited as per government policy."
No Protection, Even for a Three Self Church
It's no secret that China has been escalating its persecution of Christians and religious minorities, growing more invasive in its use of technology, and doubling down on censorship. ChurchLeaders has been following the CCP's oppression of underground churches in China, such as Early Rain Covenant Church, whose pastor has been sentenced to nine years in prison. 
It is clear, however, that being part of a state-approved church does nothing to give those churches protection from the state. The churches from Jiangxi mentioned above were two out of six state-approved churches in the province that the government targeted at the end of April, removing the crosses from all and closing some of them. 
One church member told Bitter Winter, "We thought that after joining the Three Self Church, the persecution would stop. But we continue to be persecuted all the same. The Constitution provides for freedom of religion, but it's all a lie. Xi Jinping acts like a good man when we see him, but as a devil behind our backs."
A 20-year-old building in the city of Fuzhou is another state-approved church that the CCP destroyed in the province of Jiangxi. It was demolished on April 10. One of the church's members voiced his belief that the protests in Hong Kong and China's strained relationship with the U.S. are connected to the CCP's increased antagonism towards Christianity. He said, "Many Christians took to the streets during the protests in Hong Kong last year. The government assumed that the United States incited them, so it now imposes stricter control over our faith and bans our gatherings."
The CCP is also targeting Three Self churches in other parts of China. On April 24, authorities demolished a state-approved church in Weifang city in Shandong province. The church's congregation had funded the building of the church in 2009. One resident who was present commented, "It is such a pity that this nice church has disappeared. The government has gone insane!"