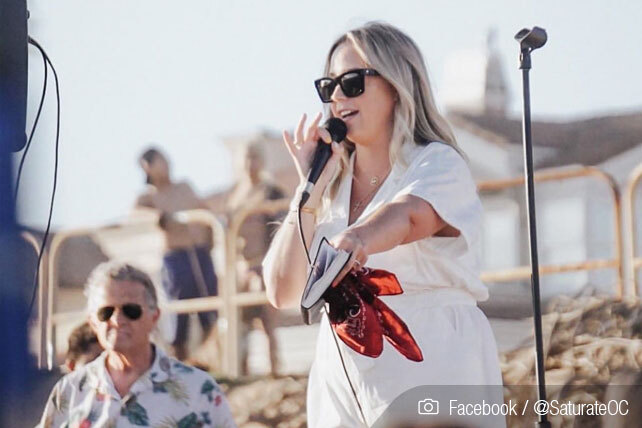 A revival is taking place on a beach in southern California. A group has been congregating around lifeguard stand 20 on Huntington Beach for the past two weeks now. The revival comes at a curious time—some might say providential—as the gatherings started just as California Governor Gavin Newsom instructed churches not to sing or chant. Now that churches in Orange County, California have been ordered to stop meeting in person due to a rise in coronavirus cases, "Saturate OC" as the meetings are called, is one of the only groups still gathering in person in the area.
"The church has left the building," Jessi Green said at last week's meeting. "I know for some of us it took a global pandemic to get us out of the aisles and into the streets," she continued as the crowd cheered. 
According to Fox News, around 1,000 people joined that meeting last week. The gatherings are being streamed via Facebook Live to Saturate OC's page. The leaders of the revival, Parker and Jessi Green, also lead a church planting ministry called Salt Churches located in Huntington Beach. While Jessi Green appears to be the spokesperson for the revival, she emphasizes the gatherings were designed to be in partnership with other local churches and that she doesn't want it to be focused on one person.
Bethel worship leader Sean Feucht joined the July 10th meeting to lead the group in song. Feucht indicated the government is trying to take away rights to worship and gather, but that "we can still be the church even if we're not in our buildings."
Jessi Green Had a Vision
The idea for the revival came to Jessi Green in 2016 while on vacation in California. She and Parker were living in New York at the time and were visiting Huntington Beach. On Saturate OC's website, the Greens write, "as we prayed we saw a picture of thousands of people being baptized along Huntington Beach Pier; the harvest was so massive, people were quickly turning around to baptize the person behind them."
This vision, along with what the couple believes was a word from God, convinced them to prepare for a revival meeting on Huntington Beach. The couple believes God told them: "There's a 50,000 person Harvest in Huntington Beach during Summer 2020. Pray for workers." So, they planned on holding meetings each Friday night in July 2020. They say they are "believing for 50+ ministry partners and 2,000 attendees prepared and expectant to lead 50,000 people to salvation July 3rd- July 24th!"
Speaking to the group on July 10th, Jessi Green reiterated her belief that the revival would not come about through the efforts of a "big preacher" but rather that it would be known as a "people movement." Additionally, she became convinced it would be important to get the church out of their buildings and into the streets to evangelize. We can't just ask people to come to church and expect them to find Jesus that way, she said, but "we have to do the things that we sing about." 
So far, according to the group's Facebook page, they have baptized many people and their numbers continue to grow. Among the churches and ministries that have partnered with Saturate OC are Greg Laurie's Harvest Church and Rockharbor Church.
Where Are the Masks?
Jessi Green says the gatherings have encountered some pushback. She told the crowd that someone told her gathering people to worship outside is "inconsiderate" in light of the pandemic going on. Then she went on to compare wearing a mask with Moses covering his face with a veil after he had seen God. She made this comparison implicitly while reading from 2 Corinthians 3:12-17, placing a handkerchief over her mouth as she read the words "who would put a veil over his face":  
Therefore, since we have such a hope, we are very bold. We are not like Moses, who would put a veil over his face to prevent the Israelites from seeing the end of what was passing away. But their minds were made dull, for to this day the same veil remains when the old covenant is read. It has not been removed, because only in Christ is it taken away. Even to this day when Moses is read, a veil covers their hearts. But whenever anyone turns to the Lord, the veil is taken away. Now the Lord is the Spirit, and where the Spirit of the Lord is, there is freedom.