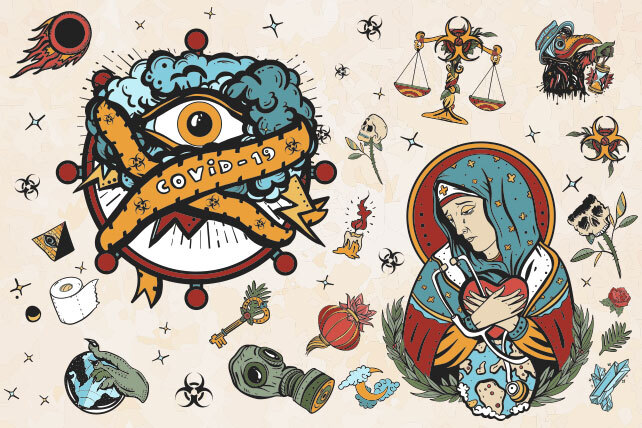 QAnon, a once-fringe movement that the FBI now labels a domestic terrorism threat, has surged in popularity, especially among conservative evangelicals. Pastors and other leaders are warning about the alt-right movement's cult-like aspects, saying it's divisive and dangerous—and that the president's comments aren't helping.
Donald Trump, considered a savior figure within QAnon, recently said he doesn't know much about the movement but has "heard these are people that love our country." He has retweeted QAnon-affiliated Twitter accounts more than 200 times, and when a politician who embraces QAnon recently won a Georgia primary, Trump labeled her a "future Republican star."
By contrast, Vice President Mike Pence has said he dismisses QAnon "out of hand" and shouldn't have to waste time discussing it. 
What Is QAnon?
The movement began in 2017 with an anonymous post on the now-shuttered message board 4chan. The writer described having classified information about Trump's battle against a global cabal of devil-worshiping, cannibalistic pedophiles who traffic children and kill them for their blood.
QAnon's proponents claim that Hollywood celebrities and global religious figures (including the pope) are part of this Deep State—and that Trump is the courageous patriot selected to save America. They look for secret meanings in the president's words and even his tie colors, leading to comparisons to an elaborate multiplayer video game. The movement also uses Bible verses to encourage supporters in their ongoing battle.
In light of recent global events, including the pandemic, "QAnon" has become an umbrella term for a variety of continually evolving conspiracy theories. Beyond the Pizzagate theory about Hillary Clinton, these include misinformation about COVID-19 (and mask-wearing) plus speculation about JFK's assassination, 9/11, UFOs, vaccines, and more.
How the Movement Has Spread
QAnon has gone more "mainstream" as a result of posts—that are frequently shared—on social media platforms such as Facebook and Twitter. Last week, Facebook removed about 900 pages and groups, plus 1,500 advertisements, tied to QAnon that reportedly encourage violence. YouTube also is a haven for QAnon advocates, one of whom has 379,000 subscribers—and has implied that pastors and megachurches are involved.
According to one researcher, QAnon content increased 651 percent on Facebook and 71 percent on Twitter since the pandemic shutdowns began in March. Wisconsin pastor Jon Thorngate says a few of his church members began sharing the controversial Plandemic movie, while others seem receptive to various conspiracies. The concept of seeking one's own truth is "concerning," says the pastor, especially during a time in history when "nothing feels authoritative."
Many Americans' growing wariness of mainstream media, fake news, liberal influences, and relativism make them more susceptible to conspiracy theories, say social scientists and church leaders. Some go even farther, comparing QAnon to a new religion or cult.
The movement's originator encourages people to "do your own research," which might attract a certain type of Christian. "The kind of literacy that's implied here—close reading and discussion of texts that are accepted as authoritative—has quite a bit in common with how evangelicals learn to read and interpret the Bible," says analyst William Partin.