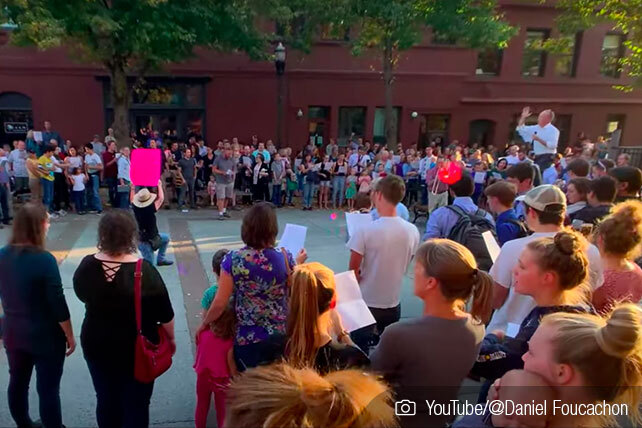 The Moscow, Idaho, church led by Pastor Douglas Wilson has continued to hold "psalm sings" in protest of the city's mask mandate, even though five people were cited and three of the five arrested when Christ Church held its first event on Sept. 23. Before the church's third psalm sing on Wednesday, Oct. 7, President Trump retweeted a video of one of the Sept. 23 arrests, posted by a man who presented the incident as an example of religious persecution.
DEMS WANT TO SHUT YOUR CHURCHES DOWN, PERMANENTLY. HOPE YOU SEE WHAT IS HAPPENING. VOTE NOW! https://t.co/dqvqz6b1WD

— Donald J. Trump (@realDonaldTrump) October 7, 2020
"We had another successful psalm sing yesterday, with hundreds in attendance," said Pastor Douglas Wilson in a blog post Thursday. "It was glorious, and the Lord was kind as always. Thanks to all of you who prayed for us, and who have supported us in various ways from around the country. The fact that President Trump retweeted a reference to one of our recent psalm sings just made things just a little extra festive."
Douglas Wilson, Christ Church Continue Protesting Mask Mandate
On Sept. 23, Christ Church hosted a "flash psalm sing" in front of Moscow's city hall in protest of a mask mandate that had been set to expire on Oct. 6. City council leaders, however, unanimously extended the order to Jan. 5. Pastor Douglas Wilson called the mandate a "hypocritical and nonsensical law" on the grounds that Latah County has seen no deaths or hospitalizations because of the virus. This claim appears to be accurate, although data shows that COVID-19 cases have spiked recently, including within the past couple of weeks. KLEW News reports that Latah County recorded 96 new COVID-19 cases between Oct. 2 and Oct. 6. Wilson has also claimed that city leaders have not followed the mask mandate themselves and that Christians have a responsibility to protest the "high hypocrisy" of the situation. 
The church's psalm sings are brief events at which attendees, who have not been wearing masks or practicing social distancing, sing a few hymns before disbanding. Before the Sept. 23 event began, police warned Pastor Douglas Wilson that those present could be cited for failing to follow the mandate. Wilson passed this message to those gathered, and the psalm sing commenced. As people sang, officers cited five of them for failing to follow the mandate and arrested two on suspicion of resisting or obstructing an officer. The third person who was arrested, the man in the video President Trump tweeted, is a Republican running for Latah County Commissioner named Gabriel Rench. He was arrested for refusing to identify himself to officers.
Counter-protesters showed up at the second psalm sing Christ Church held on Sept. 25, which Wilson said was attended by 500 people, although the Moscow-Pullman Daily News (MPDN) put the number at 400. There were no police there that time, said Wilson, and he estimated the counter-protesters numbered around 25. On his blog, the pastor said the counter-protesters did "their level best to smother anything that dissents from their privileged and very fragile views."
"A bunch of them had signs specializing in the non sequitur, and also a number of drums, in order to drown out our singing," he said. "They were nothing if not industrious, occasionally rising to the level of a bad junior pep rally. At the very end, on behalf of the music ministry of Christ Church, I apologized for our accompanists and promised to do better in the future."
Christ Church at Moscow Idaho with another flash psalm singing in response to the mask tyranny from the mayor #covid19overreaction #righttoassemble #1stamendment https://t.co/0q7jN0S8hI

— The Right Angle Podcast (@Rightanglepodc1) September 27, 2020
In a follow-up post, Wilson said the counter-protesters actually helped them by making it "a much bigger event" and that the church had "a plan in place" for future events "that will help us avoid any confrontations or clashes with them, and that should also enable us to sing without any trouble."
MPDN reported that police actually were present at the second psalm sing, but from a distance to allow the situation to calm down. 
Before the Wednesday psalm sing, Wilson posted again reminding people why the church was holding the events, namely, to protest that the city has extended the mask mandate despite there being no data showing a need for doing so. "We are standing against a governmental decision that was based on no stated or identifiable metrics, and which was therefore capricious, arbitrary, unpredictable, random, and haphazard," he said.
The city posted a statement on Facebook before Wednesday's psalm sing, asking people not to attend it due to the risk of spreading COVID-19:
Given the significant increase in daily confirmed COVID-19 cases in the area, concerns for public and officer safety, and the desire to prevent increased opportunities for community spread, it is strongly recommended that the public stay clear of the area until the end of the advertised gathering. Moscow Police Officers will monitor the gathering from a distance and exercise their discretion in enforcement. If law violations occur, follow-up investigations may be conducted, and citations may be issued.
The Moscow-Pullman Daily News reported that about 200 people showed up at Wednesday's psalm sing. There were no police immediately present and no arrests or citations, although someone nearby did try to disrupt the gathering by blasting Cardi B's song, "WAP." Counter-protesters showed up again, with one kneeling and holding a sign in the middle of the singers, but Wilson said that none of them were "disruptive." 
Attendees ended the event with "America the Beautiful," which they sang, said Wilson, because of its reminder that America is to be a place of "liberty in law."