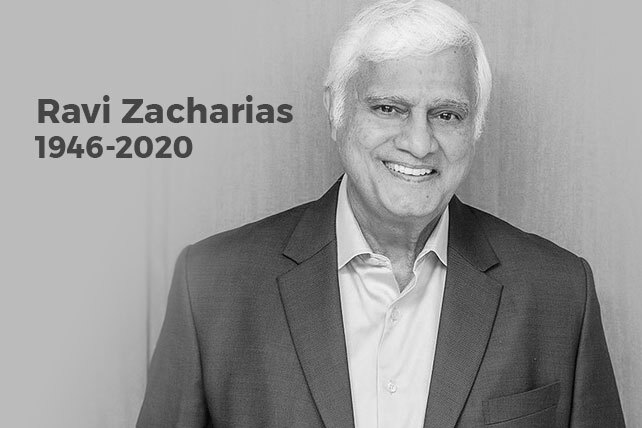 Editor's Note: After the publishing of this article, an independent investigation found allegations implicating Ravi Zacharias of sexual abuse to be credible. Prior to this report, ChurchLeaders had published multiple articles about Ravi Zacharias and his ministry. Although our editorial team believes his work still has value since it involved articulating the truths of God's Word, we would be remiss not to disclose the painful truth of Mr. Zacharias' personal actions that have come to light following his death. For further reading, please see:
Sexting, Spiritual Abuse, Rape: Devastating Full Report on Ravi Zacharias Released
The Story Behind the Ravi Zacharias Allegations (Part 1): Lawsuits, NDAs, and Email Threads
The Story Behind the Ravi Zacharias Allegations (Part 2): 'Cursory' Investigations and More Accusations
---
Ravi Zacharias, an apologist, author, husband, and father of three, passed away this morning. Zacharias suffered from sarcoma, a rare form of cancer, which was deemed no longer treatable just last week by his physicians.
"This morning, our beloved founder and apologist @RaviZacharias went home to be with Jesus," a post on RZIM's Twitter account reads.
Zacharias's daughter, Sarah Davis, the CEO of the ministry her father started (RZIM), announced last week that her father was returning home to Atlanta, Georgia, to finish out whatever time he might have left with his family. Zacharias had traveled to Houston, Texas, to seek treatment for the cancer he only recently found out he had. In March of this year, Zacharias found out he had cancer after undergoing an emergency surgery on his back. 
The whole ordeal—from the emergency surgery to the cancer diagnosis to his death—transpired in a matter of about three months. 
Other Christians leaders from Lecrae to Tim Tebow have been sharing the impact Zacharias has had on them after it became clear the famous apologist didn't have much time left on earth. 
For Ravi Zacharias Death Was Sudden
Davis gave the update about her father's passing, sharing these words about the swift illness that took him and his final days:
It was his Savior, Jesus Christ, that my dad always wanted most to talk about. Even in his final days, until he lacked the energy and breath to speak, he turned every conversation to Jesus and what the Lord had done. He perpetually marveled that God took a seventeen-year-old skeptic, defeated in hopelessness and unbelief, and called him into a life of glorious hope and belief in the truth of Scripture—a message he would carry across the globe for 48 years.
His thoughts and conversations in recent years and his final weeks were saturated with gratitude for this team of evangelists, apologists, and staff that he called family: RZIM—Ravi Zacharias International Ministries. He spoke of our evangelists' tender hearts and their love for people. Some have said my dad blazed a trail when he began commending the Christian faith and addressing life's great questions of meaning nearly five decades ago. As one friend dear to him remarked, he has also paved that path, desiring that his teammates around the world would continue so untold millions might know the same Jesus he faithfully served—the one he now sees face-to-face.
My dad's humility, grace, tenderness for people, and above all love for the Lord are forever imprinted on my mind, my heart, and my life. His love for our family will be impossible to replace until we join him in heaven one day. Ravi and Margie just celebrated their 48th wedding anniversary. My mother was entirely committed to my dad's calling and to this ministry, believing God called them together. I cannot recall even one moment when I saw her commitment to this calling weaken, because she always placed unwavering trust in the God who called them and in His purposes. We experienced God's kindness and faithfulness in so many ways as we felt Him journeying with us in bringing my dad home. For this we are at peace and filled with deep gratitude to God for the innumerable expressions of His love. Naomi, Nathan, and I are deeply grateful for your continuing prayers for our mother, Margie, and the many expressions of love you have shown to her and to us.
Davis also indicated a memorial service is currently being planned—the details of which have not yet been announced. The service will take place in Atlanta, where Zacharias and his family lived, and will be streamed. Davis requests in lieu of flowers those wishing to pay their respects to Zacharias should send a donation to RZIM.
Ravi Zacharias was born in Madras, India, on March 26, 1946. He died on May 19, 2020 in Atlanta. He was 74 years old.