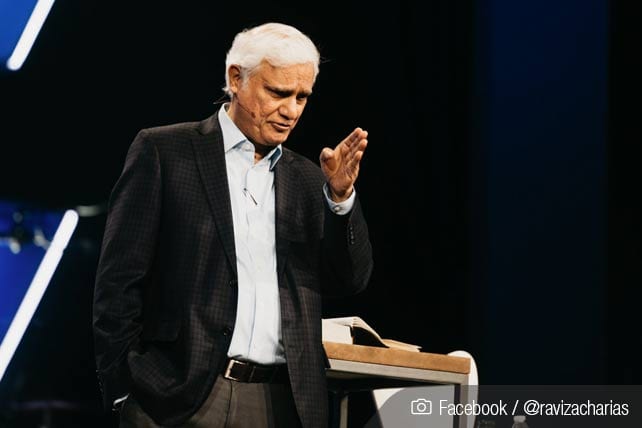 Editor's Note: After the publishing of this article, an independent investigation found allegations implicating Ravi Zacharias of sexual abuse to be credible. Prior to this report, ChurchLeaders had published multiple articles about Ravi Zacharias and his ministry. Although our editorial team believes his work still has value since it involved articulating the truths of God's Word, we would be remiss not to disclose the painful truth of Mr. Zacharias' personal actions that have come to light following his death. For further reading, please see:
Sexting, Spiritual Abuse, Rape: Devastating Full Report on Ravi Zacharias Released
The Story Behind the Ravi Zacharias Allegations (Part 1): Lawsuits, NDAs, and Email Threads
The Story Behind the Ravi Zacharias Allegations (Part 2): 'Cursory' Investigations and More Accusations
---
After asking his followers to pray for relief from the extreme pain he was experiencing following emergency back surgery, Ravi Zacharias has shared another, sobering update on his health. The apologist has just learned that he has a rare cancer.
"While we have assumed this pain was a natural consequence of the surgery, we have learned in the past week that a biopsy taken during the procedure revealed that I have a malignant tumor on my sacrum—a very rare cancer called Sarcoma." 
Zacharias posted the update about his health on his Facebook page, which has over 800,000 followers. 
The apologist mentioned the next steps for dealing with his cancer. The plan is to wait for his back to heal from surgery, which should take another four or five weeks. Then he will begin treatment to shrink the tumor. Zacharias does not plan on returning to speaking until at least the summer, if not longer. 
Despite the jarring news, though, Zacharias remains hopeful and is placing his trust in God. He writes:
We are trusting the Lord in this, and we believe we have already seen evidence of His hand. For example, the tumor did not show up on any previous scans and was only discovered by my surgeon identifying it during surgery.
We received literally thousands of messages from people all over the world saying you were praying. I have every belief God directed and prompted my surgeon to his discovery of this tumor. Margie and I and our family are so grateful for your continued prayers for the journey that lies ahead.
Zacharias assured followers that the work of his ministry would continue even while he is undergoing treatment. "Several of our remarkable speaking team members have been able to step in for me as I am off the road during this time of surgery and recovery," he writes. 
Two years ago, Zacharias lost one of those team members, Nabeel Qureshi, to stomach cancer. Zacharias says his team is nearly 100 people strong and that they are "speaking hundreds of times in front of live audiences across the globe" in any given month.
Zacharias asks for those concerned to continue praying for him and his family, as this is a very trying time for all of them. He specifically asked for followers to pray about the pain he's experiencing, which is acute at night: "Please do also pray that God will take away this horrific night pain, which is the most difficult part of waiting."