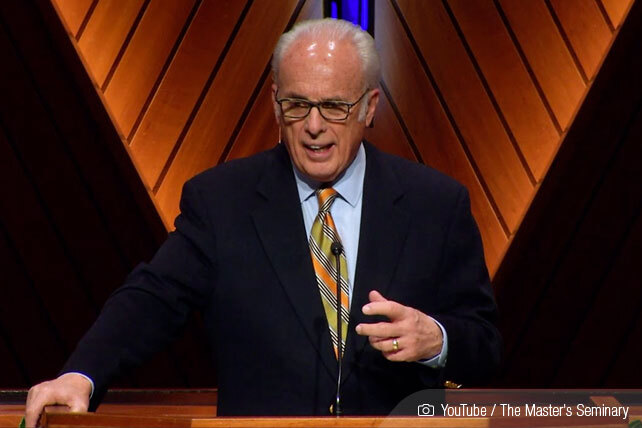 UPDATE 4-8-2021: Grace Community Church's lead teaching Pastor John MacArthur submitted a statement to the Superior Court of the State of California County of Los Angeles on April 2, 2021 in which he defended Grace Community Church (GCC) from allegations regarding the church ever having a COVID-19 outbreak that resulted in some congregants dying.
These allegations specifically came from a report written by investigative journalist Julie Roys, the founder of the Christian media outlet The Roys Report.
Responding to Roys' report, MacArthur said, "I have never heard or seen any evidence indicating that any of the people on that list believe they were infected with COVID-19 in some gathering at Grace Community Church. A prayer-request list compiled by laypeople and distributed to members of an adult Sunday school class is not proof that staff people or other officials at Grace Community Church knew this information."
Not denying that GCC congregants have tested positive for COVID-19, MacArthur explained that there is "no reason to believe that any of these people who tested positive had been attending our Sunday services."
The pastor shared in his statement that the handful of congregants who were hospitalized and/or died from COVID-19 from within GCC's 6,000-plus attendees "did not get infected at Grace Community Church, because they were not attending services." MacArthur pointed out these people had prior medical conditions and were following strict protocols to avoid getting sick by staying home.
MacArthur called Roys' accusation that GCC pressured staff and congregants "not to report cases to the County Department of Public Health" a claim that is "entirely false." He said Roys hasn't produced "any corroborating evidence" that would prove truth to that statement. He also said that she twisted the words of one of GCC's leaders for a large adult Sunday school class "to create a false impression."
GCC and MacArthur have remained open since initially suspending in-person services for less than a month during the height of the pandemic, in which they reopened their doors for indoor worship that resulted in a near capacity crowd during July. The majority were not wearing masks or practicing social distancing.
"Grace Community Church regards the wearing of masks in worship first of all as a matter of conscience," MacArthur said and explained to the court that GCC's biblical stance on masks. He said, "Since we are forbidden by the teaching of Christ not to make extrabiblical religious rules that bind men's consciences (Matthew 23:1-7; 15:1-9), we neither mandate nor forbid the wearing of masks in worship."
The Roys Report rebutted Pastor MacArthur's court statement and says they do have "evidence that at least one of the GCC congregants who died was attending GCC." Roys also shared that she believes that GCC was aware of a COVID-19 outbreak within their church and shows evidence in her report. She also uses Phil Johnson's Twitter post, who is the executive director of Grace to You and an Elder at GCC, saying he had the virus in December 2020.
Read the full statement here.
---
ChurchLeaders' original article written on November 17, 2020 below.
Grace Community Church's COVID-19 Outbreak Restrictions Lifted
11-17-2020: Sun Valley, California's Grace Community Church announced on Friday November 13, 2020, that they received a notice from the Los Angeles County Department of Public Health saying they had been cleared of a COVID-19 outbreak linked to their church. Grace Community Church's website states:
We are glad to announce that we received a notice from the Los Angeles County Department of Public Health on Thursday, November 12, saying that we have been cleared of COVID-19 outbreak. After a thorough investigation, Public Health officials have decided to rescind all outbreak related requirements and restrictions on Grace Community Church.
A health investigation took place after Grace Community Church reported that four people had tested positive for the COVID-19 virus back in mid-October. ChurchLeaders reached out to the Los Angeles County's Public Health Department on October 23, 2020 and confirmed they were investigating the reported outbreak at Grace Community Church responding with the following:
Public Health can confirm it is currently investigating an outbreak at Grace Community Church and will list the church on our outbreak dashboard today showing 3 confirmed cases. As with all investigations of outbreaks, Public Health will work closely with the church to support outbreak management strategies that can limit transmission of COVID-19.
Strip Clubs Can Open, But Churches Can't?
John MacArthur and Grace Community Church have been defying state and county government COVID-19 orders since July, 2020 by holding in-person worship services, and they have had numerous trips to the Los Angeles Superior Court attempting to fight for their constitutional right to gather indoors. California's current orders call for halting indoor church services, indoor dining, and indoor gym workouts. Represented by attorney Charles S. LiMarandi, Grace Community Church returned to court this past Friday November 13, 2020 and was told by Los Angeles Superior Court Judge Mitchell L. Beckloff that he will allow pretrial discovery and the calling of witnesses in the contempt hearing scheduled for January 15, 2021. The hearing will deal with whether or not fines should be imposed on Grace Community Church and Pastor John MacArthur for holding indoor worship services despite being issued a preliminary injunction on September 10, 2020. Attorney LiMarandi stated that the pretrial discovery that is being allowed by Judge Beckloff is necessary because the county has displayed more hostility with its COVID-19 orders toward churches than other places of businesses, saying that "tattoo parlors and nail salons have received greater consideration than have churches." LiMarandi followed that up by saying, "You can't pray to almighty God, but you can watch nude dancing." The above is a reference to San Diego Superior Court Judge Joel R. Wohlfeil who ordered California to refrain from enforcing COVID-19 restrictions on strip clubs. The court will also hear a separate lawsuit filed by Grace Community Church against the county for recently revoking the use of a county-owned parking lot they have leased since 1975.