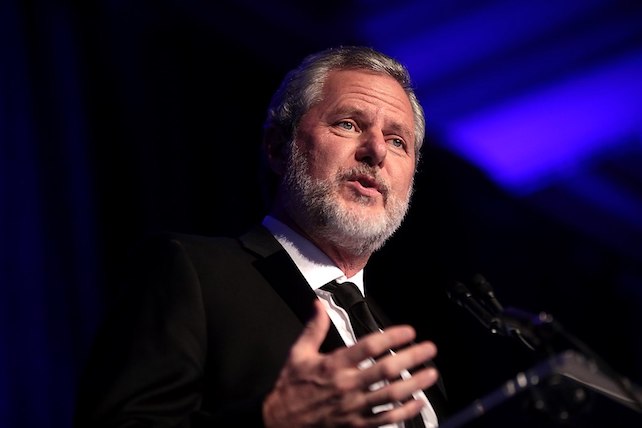 Jerry Falwell Jr. has dropped the lawsuit he filed against Liberty University in October. The former president of the university in Lynchburg, Virginia, gave no reason for his decision, and the judge's ruling leaves the door open for Falwell to file another suit in the future. 
"I've decided to take a time out from my litigation against Liberty University, but I will continue to keep all options on the table for an appropriate resolution to the matter," said Falwell Thursday in a statement. 
On Oct. 28, Jerry Falwell Jr. had filed a suit with the Lynchburg Circuit Court alleging that Liberty University had substantially tarnished his reputation. Falwell said Liberty had not only believed "salacious and baseless accusations" against him and his family but had also "directly participated in the defamation."
Yesterday, however, Falwell's lawyers moved to drop the suit, and Judge James Watson subsequently terminated it without prejudice. Liberty responded in a statement, saying its leaders are "pleased" with Falwell's decision.
"Falwell's unilateral and voluntary dismissal was not prompted by any payments, promises, or other consideration from Liberty," says the statement. "The University's administration and Board of Trustees are pleased that Falwell has dropped his lawsuit and look forward to pressing onward with the work of Liberty's President and Chancellor Search Committee to find the new leadership to succeed Falwell."
A Tumultuous Year for Jerry Falwell Jr.
Liberty University put Jerry Falwell Jr. on an indefinite leave of absence in early August after he posted a picture of himself on Instagram with his pants partially unzipped while standing next to a woman who was not his wife. He later removed and apologized for the photo, saying of the woman, "She's my wife's assistant and she's a sweetheart, and I should never have put it out to embarrass her." According to Falwell, his wife's assistant could not fully zip her pants because she was pregnant, so he decided to unzip his as well.
Many felt the post was highly inappropriate and pointed out that university leaders would not accept similar behavior from students. After Falwell went on leave, Liberty appointed Rev. Jerry Prevo, chairman of the university's board of trustees, as acting president.
Scandal continued to surround Jerry Falwell Jr., however. In an exclusive Aug. 23 report, he revealed that for years his wife, Becki, had had an affair with a man named Giancarlo Granda and that Falwell has struggled with depression for some time. The Falwells reportedly met Granda while he was working at a hotel in Miami, Florida, after which Granda and the couple became business partners. Falwell denies any involvement in his wife's affair, and he and Becki claim that Granda later tried to blackmail them under threat of revealing it. Granda's version of these events is different. He says the Falwells targeted and preyed upon him and that Jerry Falwell Jr. participated in Granda's affair with Becki as a voyeur.
Jerry Falwell Jr.'s October lawsuit referred to the recent scandals as a "malicious smear campaign incited by anti-evangelical forces." Falwell claimed that after the story surrounding Granda broke, the university "turned on" him and refused to work with him "to reach an amicable resolution." He said that Liberty also hurt his future business opportunities and that its leaders' "actions are antithetical to the teachings of Christ."
The day after the affair became public knowledge, Falwell agreed to resign from Liberty and then seemed to change his mind. On Aug. 25, Liberty University announced that it had indeed truly accepted Falwell's resignation and later announced it was launching an independent investigation into his time as president.