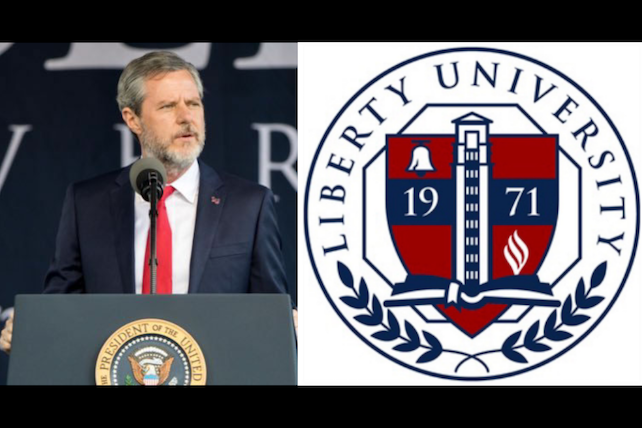 Liberty University President and Chancellor Jerry Falwell Jr. is taking an indefinite leave of absence after posting a picture of himself on vacation that many deemed inappropriate for the leader of a Christian university to post.
In a brief announcement posted to the Liberty's website today, the Lynchburg, Virginia- based school announced Falwell's leave of absence is effective immediately:
The Executive Committee of Liberty University's Board of Trustees, acting on behalf of the full Board, met today and requested that Jerry Falwell, Jr. take an indefinite leave of absence from his roles as President and Chancellor of Liberty University, to which he has agreed, effective immediately.
Falwell came under scrutiny earlier this week after posting an image of himself on vacation on his Instagram account. The picture showed Falwell standing next to a woman who was not his wife with his pants unzipped and his shirt pulled up to his mid-torso, revealing his underwear. The post has since been deleted, but considering how many people follow him and his family members on social media, it's no wonder screenshots of it are still floating around the internet.
Many Christian leaders questioned the prudence of such a photo, and many more Liberty University students and alumni balked at the double standard on display. One former student wrote, "Imagine posting this while living on the dorms. This would have been at least one required meeting with the office of student leadership or Resident Director. I'm not for legalism, but I do think we should keep figureheads accountable for how they represent their community."
Falwell gave an interview on the MorningLine, a radio program based in Lynchburg, Virginia, in which he explained the woman he was standing next to in the picture was pregnant and couldn't zip up her shorts, and he said he was wearing pants that were too tight so he decided to unzip his as well. "She's my wife's assistant and she's a sweetheart, and I should never have put it out to embarrass her."  Falwell also added he has "apologized to everyone" and promised his children "I'm going to try to be a good boy from here on out."
Apparently the picture was taken at a costume party where guests were asked to dress like characters on a reality show called Trailer Park Boys, which Falwell is fond of watching.
Liberty University is the largest Christian university in the United States and is known for being a haven for young evangelical Christians.