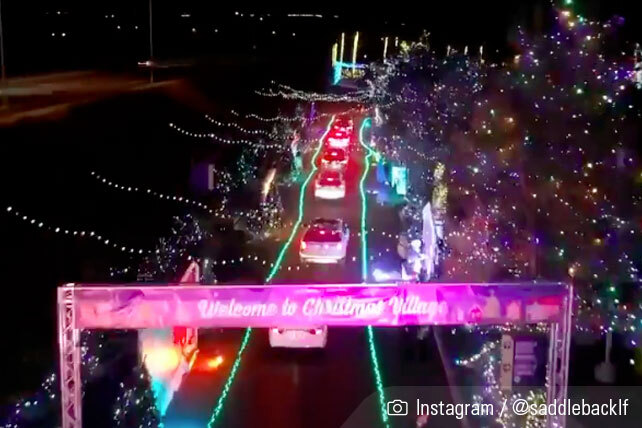 Saddleback Church in Lake Forest, California, has created a socially distanced drive-through experience called "Light of the World" in the hope of bringing Christmas cheer to people at the end of a difficult year. The event is a massive project requiring 4,400 volunteers and 500,000 lights, and as of this past weekend nearly 50,000 people have participated.
"We know during the season of COVID, people are asked to be physically distanced," said David Chrzan, who is over Global Initiatives at Saddleback. "In that spirit, we're looking for moments of hope, inspiration and encouragement. We wanted to be a good neighbor and be encouraging when people feel life has caved in on them."
View this post on Instagram
'Light of the World' Brings Christmas Spirit During Pandemic
"Light of the World" began Dec. 1 and runs through Dec. 24. The event is free, but participants have to register ahead of time and all slots are currently full. However, you can still enjoy "Light of the World" virtually by watching this video. 

People are offered free hot chocolate while they wait to start the drive-through (one participant said she also received "a stocking full of goodies"), and the beginning of the experience features a message from Saddleback Church Pastor Rick Warren. 
As visitors make their way through Light of the World, they proceed down a road lined with lights, displays, and volunteers while listening to various Christmas songs, such as "Carol of the Bells" and "Deck the Halls." At the beginning of the journey, viewers drive past a California Christmas display, which is followed by a "Winter Wonderland" scene that has special effects of wind and falling snow. The drive includes a 35-foot Christmas tree and a 25-foot Rudolph and Frosty the Snowman, and attendees also get to see characters from the movie "Frozen" (played by volunteers).
In the latter part of the trip, participants enter a section of the road lined with gold light displays as a narrator begins the story of Jesus' birth. As the drive continues and the story concludes, the narrator's voice fades into a chorus of people singing "O Come, O Come Emmanuel." Light of the World ends with a live nativity scene. 
People who attended Light of the World have voiced their appreciation on social media. One said, "Thank you! We saw it last night and it was amazing!!!!!!!!!!!!!!!" 
"It truly was amazing and pure JOY!" said another. "My kids were so happy it brought tears to my eyes. Thank you Saddleback Church!" Another person added, "I loved all the volunteers along the route waving and saying Merry Christmas too."
On Instagram, one woman expressed how thankful she was to have been able to experience the event given all the challenges so many are facing around the world:
"I thank God for this opportunity, to see the beautiful lights during this Pandemic…So many people don't have a chance to see this wonderful Christmas Lights…Especially to my family and friends in Indonesia…And this 2020, so many people lost their job, so many people lost their loved one, so many people struggling with this situation, but I believe The Christmas Spirit, Peace and Joy will stay in every heart, in your heart and my heart. Love one another and remember God said, "Be Still. And know that I am GOD!" Psalm 46:10 Merry Christmas folks! Jesus loves you and me!"