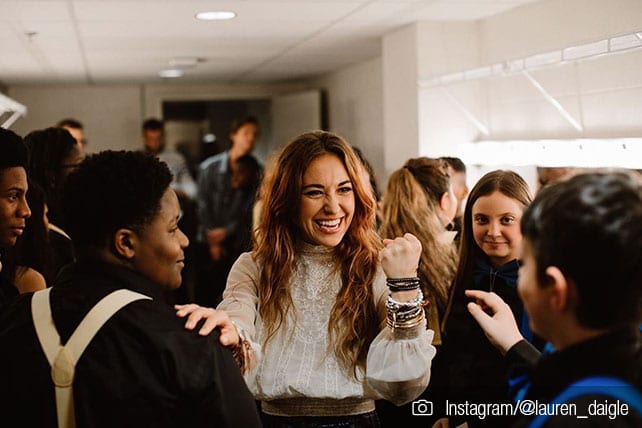 Lauren Daigle reached some major milestones in 2019. The popular Christian artist's song "You Say" has occupied the top of Billboard's Hot Christian Songs for 69 weeks in a row, garnering it the record for the longest run on that chart. In October 2019, "You Say" surpassed the former record holder, Hillsong United's "Oceans," which occupied the spot for 61 weeks. Now, Billboard has released a handful of Year-End Charts, with "You Say" occupying the top spot of several. The song even took the number 20 spot of the year-end chart of Adult Pop Songs. 
"I think a lot of times we build these complexes based on insecurity, based on fear, based on rejection, and just lies that we have to constantly overcome. So this song, for me, was just a reminder of my identity," Daigle explained in a video about the story behind the chart-topping song. 
Daigle says the inspiration for the song came after her very first Dove awards. She recalled reflecting on the "really high highs and really low lows" that constitutes the nature of a career in music production. "You Say" is about "trying to figure out how to exist when I feel like so many things are pulling me in so many directions," Daigle explained.
More than anything, Daigle says the song is about God stepping in and superseding her "inadequacies." 
"You Say" was released on Daigle's 2018 album, "Look Up Child." Four days ago, the singer and Louisiana native took to her Instagram account to announce the album had received a Platinum Certification and that "You Say" had received a 2x certification.  
For more on Lauren Daigle, check out some of the other articles ChurchLeaders has done chronicling her rise to fame:

Lauren Daigle Says Farewell to 2016 with Live Performance of 'Trust in You' on Good Morning America
Lauren Daigle on "The Ellen Show": Watch Her Powerful Performance
Lauren Daigle Doesn't Want to 'miss the heart of God' by Rejecting Secular Stage
WATCH Lauren Daigle Bring Christian Music to Late Night TV
Lauren Daigle Makes Controversial Statement About Homosexuality
Lauren Daigle: The Artist Formerly Known as Christian (?)
Lauren Daigle Tops Charts, Helps Those in Need
Lauren Daigle at KLOVE Awards: Please Pray for My Grandfather
Lauren Daigle Raises Hope, $17,000 for Maximum Security Inmates
You can also hear more of the story behind the song "You Say" here: