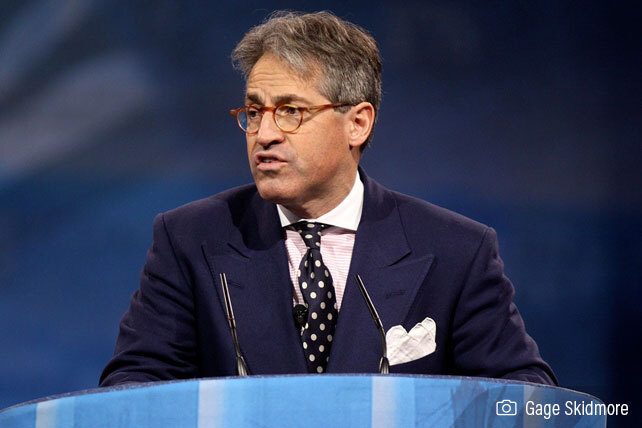 Christian author and radio host Eric Metaxas is among the list of people and groups that an employee of Dominion Voting Systems is suing for defamation. Eric Coomer, vice president of Toronto- and Denver-based Dominion, claims the Trump campaign and numerous supporters of the former president spread false claims about the voting-equipment company and the election.
The lawsuit, initially filed December 22 in U.S. District Court, was modified in early February. In it, Coomer names as defendants the Donald J. Trump for President campaign, Trump lawyers Sidney Powell and Rudy Giuliani, and conservative media outlets and personalities including One America News Network (OAN), Chanel Rion, Michelle Malkin, and Metaxas.
Dominion, which provides election equipment and software to 28 states, also has filed separate lawsuits against Powell and Giuliani.
Why Eric Coomer Is Suing
Coomer, who said in early January that he's officially on leave from Dominion "due to security concerns for both myself and colleagues," reports being bombarded with threats by people who believe November's presidential election results were fraudulent.
The lawsuit states that due to ongoing "credible threats," Coomer "has had to sever ties with friends and family members to stay in seclusion." Addresses of his parents, siblings, and even ex-girlfriends have been posted online, he says. Coomer is seeking punitive damages, claiming harm to his reputation and livelihood.
"I think these defendants need to be held accountable," Coomer tells Westword. "I do think there's a potential that once this lawsuit is successful, other personalities that are looking to increase their ad revenue and reach will think twice before making false allegations about private citizens."
Coomer denies any fraudulent activity, saying, "I have never 'put my fingers on the scales of democracy.' I do not have access to the code, and all of the code that is written undergoes independent code review. Not only are these accusations about me personally baseless, but the idea that there are secret algorithms flipping votes is 100 percent false."
Although no evidence of widespread election fraud has been proven and few lawsuits by Trump's team have been successful, polls show that up to two-thirds of Republicans believe tampering occurred.
Why Eric Metaxas Is Named
On the November 24 episode of his radio show and podcast, Metaxas invited businessman Joe Oltmann to share "inside information of how Eric Coomer, a security genius for Dominion Voting Systems, assured Antifa members that Trump would never win re-election." Oltmann, who founded the nonprofit FEC United in order to "restore liberty," described listening to an Antifa conference call and hearing references to "Eric" and "the Dominion guy."
During that show, Metaxas said of Coomer, who has a doctorate in nuclear physics:
It reminds me of the Unabomber. There are some people that uh, their learning, or rather their brains will flirt with insanity and violence. It sounds like you're dealing with somebody who at least begins to fall into that category. We know that Antifa is evil, that they are anti-American, that they are effectively Marxist shock troops at this point. But to have a man with this kind of power, the Director of Strategy and Security at Dominion, huge, powerful, international company. This is big news. … this is globalist stuff.
This is everybody's worst nightmare of deep state, George Soros. The idea that a man of this level, at a place like Dominion, which is operating all around the globe in elections, which got started in Venezuela, that somebody like that who despises America. You know, if you despise America, by definition, you become allied with these globalist forces, which are effectively fascist, Marxist, you know. That this guy has this kind of power, I mean, it's scary. … The idea that anyone would dare to try to mess with our elections, many patriots have died, suffered, and died, so that we can have what we have.