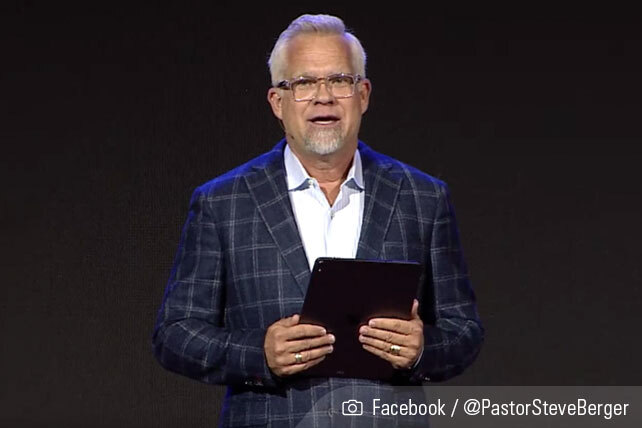 Saying he needs to "right the wrong," Tennessee Pastor Steve Berger admits he referenced "incorrect reporting" about the U.S. Capitol breach on January 6. In a statement Saturday, the leader of Grace Chapel in Franklin first acknowledges misstating the age of a victim of last Wednesday's violence.
He then notes, "There was additional incorrect reporting that a facial-recognition system had identified Antifa activists in the Capitol. That report has since been shown to be false." Berger continues, "Also, there was reporting about Antifa being bussed into the [Capitol], a report that has now been retracted."
On Friday, the FBI said there is "no indication…at this time" that anti-fascist activists, known as Antifa, were disguised as Trump supporters during the unrest. News organizations also have debunked various claims of Antifa's involvement. 
Pastor Steve Berger: No Intention to Mislead
As ChurchLeaders reported last week, several pastors were among the pro-Trump crowds who gathered in Washington, D.C., as Congress was certifying the election of Joe Biden. In a Facebook Live video Wednesday evening, Berger describes attending to pray. He said that though not all "the troublemakers" were Antifa, "They were there, they were present, and they were identified." His comments made headlines because Tennessee Gov. Bill Lee attends Grace Chapel.
Berger's statement from Saturday notes: "I apologize for sharing things that were wrongly being reported by multiple outlets. I, in no way, intentionally misled or would mislead anyone." The pastor adds that since Wednesday he's faced "hateful accusations…that have no basis in reality." Berger concludes by condemning the violence, calling it "tragic, deadly, and unpatriotic."
Faith Leaders Pressure Gov. Lee to Denounce Berger 
In response to Berger's original comments, the Southern Christian Coalition (SCC) asked Gov. Lee to publicly reject his pastor's views. The group of faith leaders, which opposes political "ideology in the guise of Christian theology to push [harmful] policies," says pastors must "act with integrity and honesty" and "not use their public profiles for political gain or to spread conspiracies."
Pastor Chris Williamson of Nashville's Strong Tower Bible Church says Pastor Berger, Gov. Lee, and Tennessee's two U.S. senators "must look in the mirror, repent, and be held accountable for their role in not accepting the results of a presidential election." Their lies, he adds, "have fanned the flames of fear and distrust among their base, which is what helped produce the violence we saw" at the Capitol.
Another Pastor Preaches About Freedom, 'bad actors'
Brian Gibson, a Kentucky pastor who spoke at pro-Trump events in D.C. last week, said in a sermon yesterday that he represents Jesus and intends to "keep this nation a free nation." As Christianity Today reports, Gibson referred to Trump's ban from Twitter as well as ongoing pandemic-related worship restrictions.
Gibson, who denies being present when violence erupted, repeated now-debunked claims of Antifa's involvement. "I also know that some Trump supporters followed their lead without a shadow of a doubt," he said, "because you don't get 2 million people together without having some radicals in the crowd or some simple people in the crowd that you could lead anywhere, right?"
Gibson tells local media he's been receiving death threats since Wednesday but is "not afraid" because he's "a man of God."