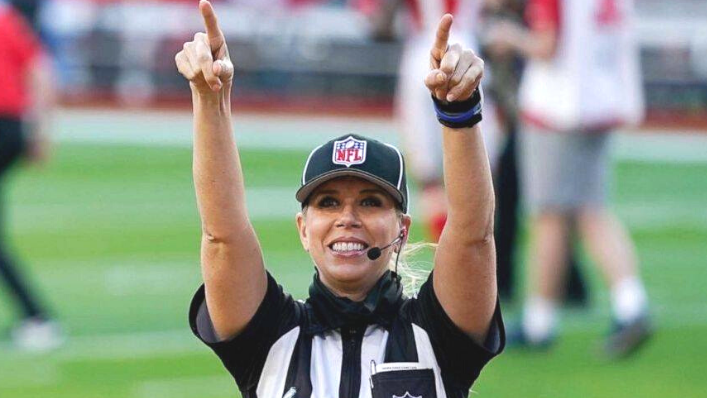 Sarah Thomas made history last month when she became the first female referee to ever officiate a Super Bowl. But for the 47-year-old mother of three, her greatest victory is her faith in Jesus.
In this week's episode of After Hours with Amy Lawrence, Thomas opened up about how the past year has grown her faith.
Struggling with the uncertainty of the pandemic, Thomas says the only thing she could do was lean on the Lord.
"I remember telling my parents I was not in a good place," Thomas said of the uncertainty surrounding the NFL season and whether or not she would be able to officiate. "The worry, the concern, you can't control anything."
Through her surrender, and pressing into Him, God showed up in big ways. A conversation with the president of her bank led to the Lord revealing Himself to her through a series of events that renewed Thomas' spirits.
"My biggest triumph is my faith," Thomas told Lawrence when asked what her greatest triumph of the last year was. "I grew much stronger in my faith. I will tell you, the Good Lord knew I was gonna be in the Super Bowl, and that's when He was just saying, 'Be still. Let Me take the wheel.'"
Thomas grew up in a Christian home and attributes her laundry list of "firsts" and successes to the Christian foundation her parents established within their home.
"I just have to commend my mother and father for laying such a wonderful Christian foundation for all of us at home," she said.
When she finally took to the big stage for this year's Super Bowl between the Buccaneers and the Chiefs, Thomas was wearing an angel pin her mom gave her when she was a freshman in college.
"She told me she couldn't be there with me all the time, but she would be there with me in spirit and that God would be watching over me," Thomas said on "The Today Show" after the Super Bowl.
"That was my triumph," she said in the interview with Lawrence, "that I needed to dig deeper into my faith and not doubt so much."
This article originally appeared here.