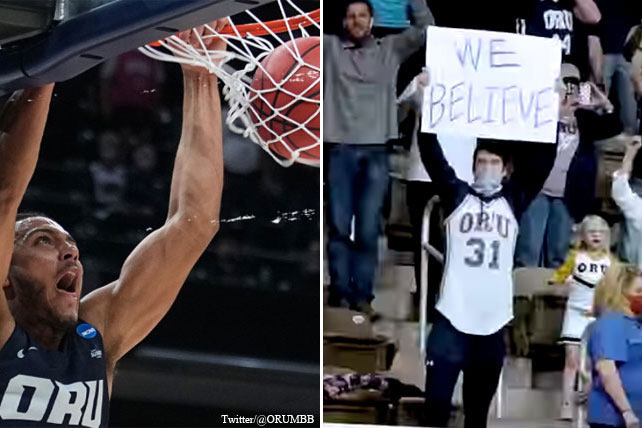 (Update: 3-30-21) Hemal Jhaveri, the USA Today columnist who said Oral Roberts University [ORU] should be banned from participating in the NCAA Men's Basketball Tournament because of the university's conservative Christian beliefs, has been fired for a tweet she posted regarding the Boulder Colorado shooter.
Jhaveri posted on Twitter describing the shooter who killed 10 people at a grocery store was an angry white man saying, "It's always an angry [W]hite man. always."
Although Jhaveri deleted the tweet, USA Today decided last Friday the "race and inclusion" editor needed to be terminated.
Three days earlier she called ORU's biblical morals dangerous and hateful and said the university is a "hotbed of institutional transphobia, homophobia with regressive, sexist policies, in her USA Today article 'Oral Roberts University Isn't the Feel Good March Madness Story We Need'.
---
March 25, 2021 — The 2021 NCAA Men's Basketball Tournament included a few conservative Christian universities Liberty University, Baylor, and Oral Roberts University (ORU) were among some in the field of 68 teams. Liberty lost in the first round to Oklahoma State, but Oral Roberts, won both of their games in the first and second round to advance the coveted sweet 16.
As the #15 ranked Oral Roberts Golden Eagles have been preparing for their game against the #3 ranked Arkansas Razorbacks on Saturday, columnist Hemal Jhaveri has said that the school's anti-LGBTQ+ stance should ban them from the NCAA competition.
USA Today Columnist Takes Aim at Oral Roberts University
Tulsa, Okla.'s ORU was founded by charismatic Christian televangelist Oral Roberts (1918-2009) in 1963. Writing for USA Today's For the Win's sports section, Jhaveri argues that biblical values and beliefs make ORU "not just a relic of the past, but wholly incompatible" with the NCAA's stated values of equality and inclusion. 
USA Today's columnist attacked Oral Roberts University's student handbook saying, "In their student conduct section, under the heading of Personal Behavior, the school expressly condemns homosexuality, mentioning it in the same breath as 'occult practices.'"
Jhaveri also attacked the school's honor code for requiring students to pledge that they won't engage in any homosexual activity and for their stance on only seeing marriage as strictly being between one man and one woman. Jhaveri said Oral Roberts is "free to impose whatever standards of behavior they see fit," but made sure that her readers knew that those standards are "wildly out of line with modern society and the basic values of human decency."
Not stopping there she said the university's toxic fundamentalism that obsesses over chastity, abstinence, and absurd dress codes is something that could be debated. However, she said, ORU's anti-LGBTQ+ stance is not debatable and "is nothing short of discriminatory and should expressly be condemned by the NCAA."
Calling Oral Roberts University a "hotbed of institutional transphobia, homophobia with regressive, sexist policies," Jhaveri attempted to condemn the NCAA's decision for allowing ORU be part of the tournament. She said, "Fans and media, eager to embrace a Cinderella story, helped push that narrative along, either without knowing all the facts or willingly burying them as irrelevant."
The For the Win's columnist views ORU's ideology as dangerous and hateful, but said, "The fact is, any and all anti-LGBTQ+ language in any school's polices should ban them from NCAA competition." It seems that Liberty and Baylor escaped Jhaveri's notice when she decided to write her article although they both hold conservative Christian values; maybe she feels their student handbooks weren't strict enough for her to demand they be removed too.
Wheaton College professor and dean Ed Stetzer ironically wrote an article for USA Today that was released the morning after Jhaveri's article was written titled "No, Oral Roberts University Basketball Doesn't Deserve To Be Canceled From NCAA Sweet 16." Stetzer spoke out, saying, "This matters to me because what is happening to Oral Roberts University is coming to all of us who hold to such outdated ideas…I'd remind my fellow people of faith, nobody will get a pass on these issues if the dogma of new tolerance continues to take hold."
Southern Baptist Theological Seminary's President Al Mohler also wrote a response to Jhaveri's article titled 'They're Coming for Oral Roberts University, and that Means They Are Coming for You, Too'. In his article he said, "Make no mistake, this may be about Oral Roberts University today, but the same will be said about you and your school, your church, and your organization tomorrow. You can count on it. All the scare words in this article, about bigotry and phobia and regressive sexist policies and fundamentalist morality and "wildly out of line with modern society and the basic values of human decency," will soon be directed at any Christian institution that dares to defy the new moral order."
Social Media Pushback
Although For the Win's article has been shared over 80,000 times from its website, the post hasn't been very well-received based comments from the site's social media page. Some of the comments read:
"Leave them alone and let them play ball, don't bring in all the outside nonsense for distraction. Probably won't happen, but I hope they run the table and win the championship!"