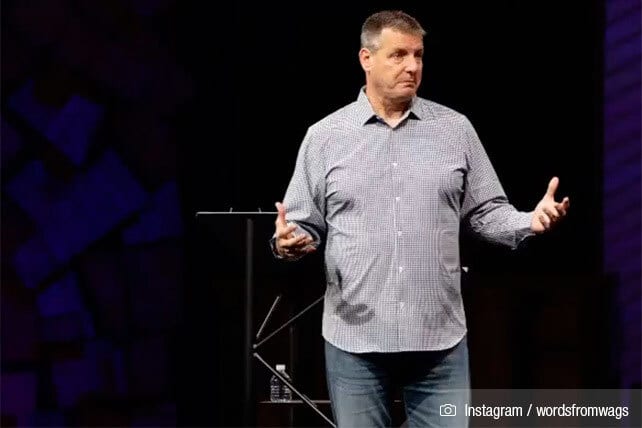 Todd Wagner, co-founder of Watermark Community Church in Dallas, Texas, announced his resignation on Sunday after a season of chaos and conflict. Wagner has pastored the megachurch since their first corporate gathering in November 1999.
A statement from the elder team at Watermark Community Church stated that senior pastor and elder Todd Wagner, who has served the church for 22 years, submitted his resignation on April 17, 2021. The elders shared that Wagner and his wife "had been seeking the Lord for over a year to discern what their next step of faithfulness would be, and through conversations with family, friends, fellow Elders and their community, God gave them clarity that now was the time for a transition."
This comes after Wagner recently returned in January from a leave of absence in September 2020 to work on prideful sin that was increasingly becoming visible to church members. During his address to the Watermark Community Church congregation in September, Wagner told them that there was "no hidden sin, there's no sexual impropriety, there's no financial issue, there's no physical altercation, there's no foul language, and there's no holes in the wall. My marriage is great, my kids and I are doing amazing…but I have not been leading with the usual grace in my relationships with my closest friends…It has always been my ditch to be short and irritable. Invalidating at times and impatient enough that it was happening with more frequency that it was noticeable…and I didn't hear them when [people] started to tell me about it."
"Pride is not simply being overly impressed with yourself and who you think you are in terms of accomplishment, looks, or position," he said during his September confession. Wagner continued explaining what the pride looked like that God was revealing in himself. He said, "It has most often to do with the position of your heart. It's got to do with not listening, not being as hard on yourself at times you're with others. It's not humbling yourself to listen to others. It's not thinking of God first and others first."
On Sunday April 25, 2021, Wagner sat with the elders of Watermark Community Church on the stage and told the congregation, "We are fully convinced today that in the interest of Christ, for me and for my family, and for Watermark in this next season, it would be best served by me ending my season in serving as pastoral elder of Watermark Community Church."
An emotional Wagner told the congregation, "Serving you in this role has been the greatest privilege of my life," and he thanked God and Watermark Community Church.
Wagner will continue to assist the elders and will remain a member at the church. When asked what his plans were next, he jokingly responded he heard the children's ministry needed volunteers.
Before Wagner's announcement, Elder David Leventhal also announced he had resigned on March 26, 2021 due to loss of trust he had in Wagner's ability to lead. Leventhal's resignation was in response to what seemed like the elder team's direction of keeping Wagner in his role after his leave of absence from September.
Levanthal and Wagner will serve together on the Elder Emeritus Team and are looking how each will "best serve" the church's mission in the future. Leventhal shared with the congregation that Wagner and he are good, saying, "There's no anger, there's no wrath, there's no malice or slander between us…I love Todd and I know that he loves me. I want you to know that Todd and I are at peace."
"Men can disagree and still love one another, and still honor and obey God."
Watermark Community Church is a church that helps equip other churches using various trainings such as marriage enrichment, leadership training, grieving kids and teens, and more. The church is still scheduled to hold their Church Leadership Conference this week, although some are questioning that decision.
"Why would a church that lost 4 of its 6 elders in the past 6 months, including its senior pastor, be hosting a conference for church leaders," investigative reporter Julie Roys asked on her Twitter page. Another person likened Watermark's situation to what Harvest Bible Chapel went through with former pastor James MacDonald.
The situation Watermark Community Church has been navigating through this passed year also eerily resembles what Mars Hill Church in Seattle went through in 2014 with their former pastor Mark Driscoll. Driscoll how is now the pastor of The Trinity Church in Scottsdale, Arizona, apologized to his Seattle congregation a couple of months before announcing his resignation. He said, "I'm very sorry for the times I've been angry, short or insensitive. I'm very sorry for anything I've done to distract from our mission by inviting criticism, controversy or negative media attention." Driscoll founded Mars Hill Church that grew to over 14,000 people at 15 locations.
Read the Watermark Community Church's Elder team's statement here.
Pride Will Destroy You
Pride is a sin. Pride will destroy anyone; it doesn't care if you are a non-Christian or a follower of Jesus Christ. Pride doesn't care if you are a Christian who serves the church where no one knows your name or if you're the lead pastor who preaches on a Sunday morning. Pride will creep into your heart slowly and take permanent residency without knowing you're entertaining its deadly ambitions. Kill pride before it takes root in your heart, before it makes you ineffective for the Kingdom of Jesus Christ, and possibly turns you away from God. Here are 41 signs you might have pride in your life and not even be aware of it.