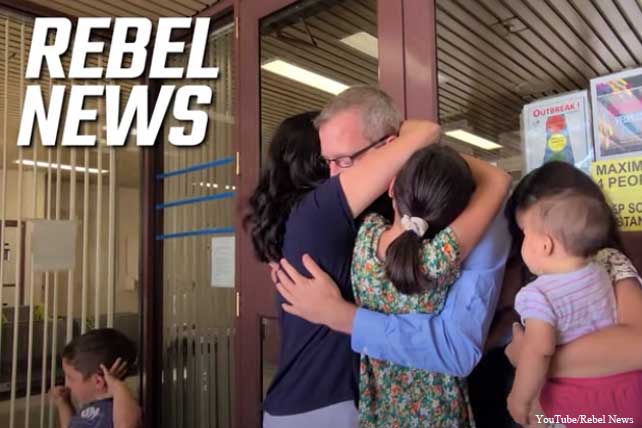 UPDATED July 7, 2021: Canadian Pastor Tim Stephens was released from the Calgary Remand Centre on Thursday July 1, 2021, and reunited with his family after spending 17 nights in jail for holding worship services that disobeyed COVID-19 public health orders.
Stephens was released on the day the government removed COVID-related restrictions throughout the area.
"I'm thankful that the restrictions are done and descended," he told Rebel News. "Including the court orders that go along with that."
"I'm thankful for God. I'm thankful that he's built His church. That He's sustained our church at Fairview Baptist Church through this time. I'm thankful that He strengthened me, my wife, and our family. Through this, people have come to know the saving love of the Lord Jesus Christ. Through this, people have been strengthened in this country; around the world. And so these many reasons I'm thankful…of course there's still a road ahead of us for justice, for truth, for our province…I continue to have a joy now that I can be out and pastor my church and be with my family and see what the future has in store."
Stephens is currently scheduled to appear in court on July 14, 2021, which will determine whether he will face any further consequences for disobeying the government's COVID-19 health orders.
Watch the video of Stephens being reunited with his family on the day of his release below:
---
Pastor Coates and Others Attend Rally Outside of Pastor Tim Stephen's Prison
UPDATED June 25, 2021: On June 19, 2021 a peacefully rally was held outside of the Calgary Remand Centre were Fairview Baptist Church's Pastor Tim Stephens is being held.
Stephens was arrested on June 14, 2021 for violating COVID-19 restrictions. This marks the second time in less than a month Stephens has had to go to jail for disregarding Alberta Health Services orders.
Supporters for Stephens gathered outside of the facility he is being kept at holding signs that read, "Stand in freedom. Open your church. Christ is King." They also sang worship songs, prayed, and listened to preaching from other pastors.
Associate Pastor for Victoria Baptist Church, Trevor Stephens who is Tim's brother said, "We as pastors have been given a command by God that we must obey Him and He has called the church to gather. The message is to the government that we will continue to gather despite their edicts."
Raquel Stephens, Tim's wife, told Rebel News "We're just really grateful for everyone that's come," referring to those that gathered showing support for her husband outside of the prison facility he is being held at. "Most of all we're just thankful that most of these people here recognize the Lordship of Christ and are here to testify to that."
Mrs. Stephens shared that it was easier for her husband this time compared to his last arrest because he knew what to expect this time, but "for us [family] knowing that it's going to be longer is obviously more difficult. But I think he's prepared us to suffer well, to testify to the goodness of God and His goodness and sovereignty in the midst of all the things he leads us through."
GraceLife Church's Pastor James Coates who also spent days jail (35), many of them in isolation, for also violating COVID-19 health orders was at the peacefully rally and told Rebel News that Stephens has "got to keep his eyes on Christ and hold fast to the Word of God. Spend as much time in prayer as he can and just look to the one who is just and as he entrusts himself to a faithful judge he can have full confidence that in the end this injustice will be addressed."
While encouraging those in attendance to continue to proclaim the Gospel of Jesus Christ Coates warned them he believes the government strongholds are going to worse for Christians. He said, "The whole thing is going to come down, and we are going to claim Christ all the way to the grave. And we are going to preach the Gospel to all those who hate Him and hate us, and we're going to appeal to them to be reconciled to God. And may God work through His grace by our preaching to reconcile hearts to Himself."
GraceLife Church still doesn't have possession of their property that contains their worship facility which was seized by authorities in early April of this year.
Stephens' scheduled court date on June 28, 2021, which will hopefully result in him being released.
Watch the Rebel News' video of the Rally here.
---
UPDATED June 17, 2021: Pastor Tim Stephens of Fairview Baptist Church in Southeast Calgary was arrested on Monday for a second time because he violated COVID-19 rules for holding an outdoor church service.
Authorities said the arrest came after "repeated calls from concerned citizens regarding church services," and that Stephens deliberately disregarded public health orders as he hosted a service that broke social distancing protocols and gathering capacity limits.
A news release by Alberta Health Services stated; "It is only when significant risk is identified or continued non-compliance is noted that AHS resorts to enforcement action…It is important to understand that law enforcement recognizes people's desire to participate in faith-based gatherings. However, as we are still in a global pandemic, we all must comply with public health orders in order to ensure everyone's safety and wellbeing."
As Stephens was handcuffed and placed in the back of a police car while his family watched in the driveway, his wife asked one of the officers, "You want to arrest me and take me away from them too?" pointing to her children. The officer responded, "I have no reason to arrest you, alright. So I'm going to leave it at that. Okay?"
Reaching his hand through the steel-barred police car window to hold his children's hands while they loudly wept, Stephens said, "Bye, guys."
Data from the Government of Canada's website showed there were 1,055 total new COVID-19 cases in Canada on June 16.
Stephens will remain in custody until his scheduled court date on June 28, 2021.
BREAKING: Pastor Tim Stephens Arrested On New Charges
FULL STORY: https://t.co/mJUy79i2jU
FULL VIDEO COMING SOON at https://t.co/w9zAH1MOnX pic.twitter.com/MH1Sx9uuZF

— Adam Soos ⳩ (@ATSoos) June 14, 2021
---
ChurchLeaders original article written on May 19, 2021, below:
Recently arrested Pastor Artur Pawlowski gave listeners a stark warning in an interview with Rebel News: "They're going to come after you; it's just a matter of time."
Artur Pawlowski told reporter Adam Soos, "We have become political prisoners in Canada because we dare to challenge their corruption…if they can do this to me they can do this to you and anyone that they wish."
The Polish-Canadian pastor and his brother David were arrested on May 8, 2021 and charged with "organizing an illegal in-person gathering." Their crime was holding a church service that violated COVID-19 protocols. After approximately 40 plus hours in jail, they were both released.
The Pawlowskis Detail Their Jail Experience
The pastor said the jail cells they put the pastors in didn't have mattresses, pillows, or blankets–just bare concrete. "If you want to torture someone, deprive them of sleep. And that's exactly what they did." Explaining that after sitting on just concrete for 10 hours straight your body starts to hurt, and it's very uncomfortable.
After there was a shift change, the pastor and his brother's experience changed drastically. The new staff sergeant said, "This is wrong" in regard to the way they were being treated. He gave them Bibles, mattresses, and even made coffee for them. Instead of being treated like an animal, Artur Pawlowski said these guards "treated us like human beings."
Artur Pawlowski shared that one jailer mocked them for their faith. The jailer would walk by their jail cell and wave his hands back and forth in the air saying, "Praise the Lord" as he laughed and pointed at them.
The brothers were transferred to another facility which Artur Pawlowski called "hell." "I thought all of this is about health…about keeping people safe," he said, "What a hoax…what a big fat lie," because he said they were thrown in with 30 other inmates in a filthy cell. The brothers were told that they "were there for our safety and for the safety of Albertans in the middle of a pandemic." This seemed contradictory to COVID-19 regulations they keep being told they are violating.
Police Followed the Pawlowskis Home
After their release, Artur Pawlowski claimed they were followed by the police in a helicopter and asked why? He wondered if it was to make sure this pastor doesn't "feed another homeless man on the way home!"
"When is this insanity going to end? They're doing this to me. They're going to come after you; it's just a matter of time," Artur said. "I think we have fallen very, very low in our country."
Artur Pawlowski is scheduled to appear in court on Thursday May 17, 2021 for a contempt of court order, which he says was never presented to him.
Watch the full interview Artur Pawlowski gave after his release here.
Pastor Tim Stephens Arrested on Sunday
On Sunday May 16, 2021, Fairview Baptist Church's pastor Tim Stephens was arrested in Calgary after leading the 11 a.m. worship service. Like Pawlowski, Stephens was arrested for breaking COVID-19 public health rules that only allow a maximum of 15 people indoors with social distancing guidelines while wearing masks. Stephens has since been released.
Stephens wrote an article posted on the church's website stating, "Restricting the church to 15 people — which essentially restricts the church from gathering — is against the will of Christ and against the conscience of many who desire to worship the Lord of glory according to his Word."
Alberta Pastor Disagrees With Disobeying Restrictions
Rev. Ray Matheson is a retired pastor who is now a congregational care associate at First Alliance Church in Calgary, Alberta, is not supportive of Pawlowski and Stephens' actions. Matheson said, "I feel very sad about what these pastors are doing…it gives Christianity a bad name. I think those pastors believe they are doing the right thing, but I believe they're misguided and they're not following the principles of Scripture or the example of Jesus."
In an interview with Postmedia's Licia Corbella, Matheson told her, "Our persecuted brothers and sisters in Christ around the world would not call what is happening here persecution….Health restrictions placed upon us still allow us to worship God and follow all the essentials of our faith."