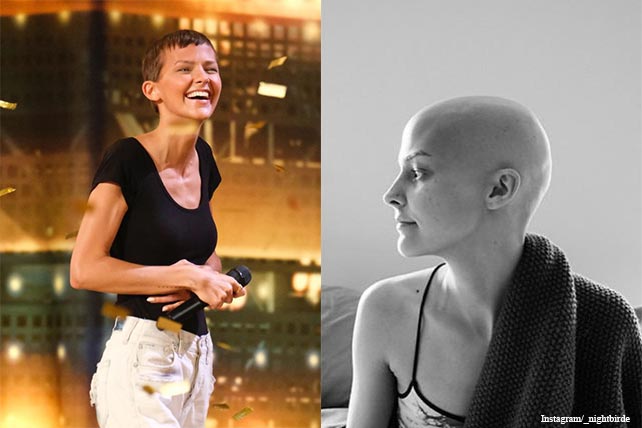 UPDATED August 3, 2021: Jane Marczewski shared with the world on Monday that her time on 'America's Got Talent' (AGT) must come to an end due to deteriorating health in her ongoing battle with cancer.
Marczewski, who goes by the stage name Nightbirde, said, "My point of view this summer has been astounding. What a miracle that the pain I've walked through can be reworked into beauty that makes people all over the world open their eyes wider."
"Since my audition, my health has taken a turn for the worse, and the fight with cancer is demanding all of my energy and attention," Marczewski shared. "I am so sad to announce that I won't be able to continue forward on this season of AGT."
The former Liberty University student's uplifting attitude is contagious when you read her updates and hear her talented voice. As Marczewski thanked her supporters, she offered with these words of hope, "Stay with me; I'll be better soon. I'm planning my future, not my legacy."
Please keep Nightbirde in your prayers as she fights her battle with cancer.
---
ChurchLeaders original article written on June 10, 2021:
Liberty University Alumna and 3X Cancer Survivor Wows 'AGT' Judges
Zansville, Ohio, native and former Liberty University student Jane Marczewski performed an original song on 'America's Got Talent' (AGT) Tuesday night and wowed the judges and audience with her voice and story.
The 30-year-old singer goes by the stage name Nightbirde. She shared with the judges and audience that she is a three-time cancer survivor. The song she wrote and performed, 'It's Okay,' poetically tells the story of the last year of her life.
Before her performance, AGT Judge Howie Mandel asked, "Do you sing for a living?"
"Not recently," Marczewski said, because she has been battling cancer for "quite a few years."
AGT Judge Simon Cowell asked Marczewski how she is doing now. "Last time I checked, I had some cancer in my lungs, and in my spine, and in my liver," she replied. Cowell responded with a somber, "Wow," and Mandel said, "So you're not okay."
Inspiringly, Marczewski spoke to the crowd. "Well, not in every way, no…" she said. "It's important that everyone knows I'm so much more that the bad things that happen to me."
"You can't wait until life isn't hard anymore before you decide to be happy." – Nightbirde
Then, her incredible performance and unforgettable voice brought everyone in the auditorium to its feet, including all four judges. Cowell again said, "Wow!" and then told Marczewski, "Your voice is stunning…absolutely stunning." The visibly emotional Cowell said he wasn't going to give her a "Yes" to go to the next round. He instead pressed the Golden Buzzer that automatically advances Marczewski to the live competition.
"You can't wait until life isn't hard anymore before you decide to be happy," Marczewski told the AGT viewers. She later said, "I have a 2 percent chance of survival, but two percent is not zero percent. Two percent is something, and I wish people knew how amazing it is."
Marczewski Has Asked God Tough Questions
Marczewski poured her heart out in a blog post and welcomed those reading to peer through the window of her life's emotions and faith. "I have had cancer three times now, and I have barely passed thirty. There are times when I wonder what I must have done to deserve such a story," she wrote. "I fear sometimes that when I die and meet with God, that He will say I disappointed Him, or offended Him, or failed Him. Maybe He'll say I just never learned the lesson, or that I wasn't grateful enough. But one thing I know for sure is this: He can never say that He did not know me."
The vulnerable post ended with an encouraging note. "Even on days when I'm not so sick, sometimes I go lay on the mat in the afternoon light to listen for Him. I know it sounds crazy, and I can't really explain it, but God is in there—even now."
During an interview, Marczewski shared what her encounters with God looked like during her dark and uncertain times battling cancer. She said, "For those people that are brave enough and courageous enough to look at God in the face during these seasons of questioning and disappointment and rage, there is a special piece of himself that The Lord reserves for those that are hurting as bad as you are."