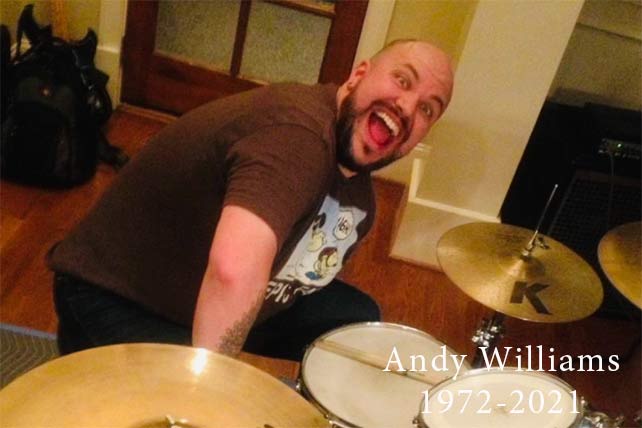 UPDATED July 9, 2021: Casting Crowns lead signer Mark Hall shared on Instagram Friday July 9, 2021, that their former drummer Andy Williams passed away at the age of 49, in the early morning hours around 1 a.m.
Hall shared a post from Williams' wife Kelly which said the motorcycle injury Williams suffered from his accident on June 27, 2021, took too much of toll on his body, although he fought the good fight.
Kelly told all those following their Gofundme page that God had answered prayers, saying, "While we mourn that Andy isn't here with us, and that we didn't get to witness the miracle we longed for here on earth, all of our prayers were answered. He is healed, he is awake and we believe that he is more alive today than he has ever been."
"We celebrate that Andy is in the arms of his Savior and we are grateful for the memories and laughter that Andy brought to all who knew him," Kelly said, thanking everyone for their prayers, support, unending love.
Please keep the Williams family in your prayers.
---
UPDATED July 6, 2021: "Your prayers are desperately needed and so is your support," Casting Crowns lead signer Mark Hall posted on Instagram a couple of days ago, along with an update on the band's former drummer, Andy Williams.
Williams was involved in a serious motorcycle accident on his way to church on June 27, 2021. After almost dying at the scene, Williams was rushed to the ER and placed on a ventilator because of extensive brain and bodily injuries.
The husband, father, and music teacher had to have his leg amputated just above the knee. Much is still unknown about what the upcoming days will bring for Williams and his family.
Doctors were able to eradicate bacteria from Williams's lungs that was causing a fever, Pastor Jeff Boyet from Grace Chapel Fairview wrote in an update on Gofundme. Boyet asked people to pray for Williams's complete healing and for his doctors. He also thanked those who had given to Williams's Gofundme campaign, which was set up to help with medical bills and other unknown future financial needs. "The family can feel the love of Jesus from your generosity and continued prayers. Love to all," Boyet wrote.
The Andy's Army Gofundme campaign has raised over $43,000 of its $250,000 goal.
---
ChurchLeaders original article published on June 28, 2021, below:
Popular Grammy Awarding winning Christian band Casting Crowns posted on Instagram Sunday pleading for everyone to pray for their former drummer Andy Williams, who was in a serious motorcycle accident.
Williams was hit by a vehicle while riding his motorcycle on his way to church Sunday.
His former bandmates shared that Williams is alive after being resuscitated at the scene of the accident. He was rushed to the ER and is currently on a ventilator in very serious condition. "Severe trauma" to his body and brain occurred, and the extent of his injuries is still unknown.
Williams left the band in 2009 and was replaced by Brian Scoggin, who recently announced his departure from Casting Crowns to pursue local discipleship, teaching, and counseling opportunities.
Casting Crowns' Instagram post read:
"This morning Andy Williams, our beloved drummer, was struck by a vehicle while on his motorcycle on his way to church. He was resuscitated at the scene and rushed to Vandy ER. Currently, Andy is on a ventilator with severe trauma to his body and brain. The doctors have performed scans and are continuing to identify the trauma suffered. He is ALIVE, but his needs are many. The doctors say right now that the best thing that can happen is for him to wake up on his own. So please stop what you're doing and pray for Andy to wake up. Pray for his wife Kelly, his two sons Asher and Aiden, and his sister Mary."
Mark Hall, Casting Crowns' lead singer and youth minister at Eagle's Landing First Baptist Church in McDonough, Georgia, turned to Instagram to urge his followers to pray for Williams, posting: "PRAY FOR ANDY our friend and former drummer for Casting Crowns, Andy Williams, Was in a motorcycle accident this morning and really need your prayers!"
Over 26,000 people have commented on Casting Crowns Facebook post and it has received over 95,000 reactions.
Please join ChurchLeaders.com in praying for Williams and his family.