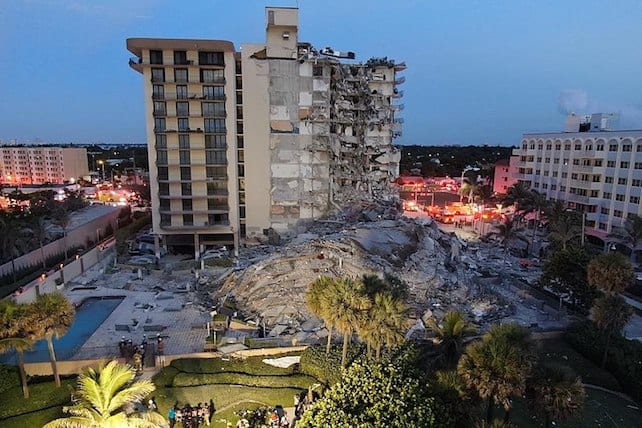 Local and out-of-state ministries are coming together to pray for and support those impacted by the partial collapse of a Champlain Towers South condominium in Surfside, Fla. As of this writing, 11 have been confirmed dead and at least 150 people remain missing. 
"As we learn more about this terrible tragedy, our hearts are broken for the residents of this condo who experienced such a devastating event," said Josh Holland, assistant director for the Billy Graham Rapid Response Team (BG-RTT), a chaplain ministry of the Billy Graham Evangelistic Association (BGEA). "Our crisis-trained chaplains are available to listen, and we want all of those who were impacted—including the first responders who are part of the search-and-rescue efforts—to know that God still loves them and cares about them, even in the midst of such pain and sadness."
Champlain Towers South Condo: Tragedy Strikes Surfside
In the early morning hours of Thursday, June 24, part of a Champlain Towers South condo, a 12-story building just north of Miami Beach, collapsed. "It felt like an earthquake," said one survivor. The last people found alive were discovered hours after the collapse took place, and the odds that rescue teams will find any more survivors are grim as crews must search through complicated layers of debris and five days have now passed since the tragedy occurred. At least two class-action lawsuits have been filed against the Champlain Towers South Condominium Association on the grounds that the association failed to keep the building safe and in good repair. 
In the wake of the devastation, churches and ministries are holding prayer vigils, taking up donations, providing food, and otherwise offering what support they can for those whom the disaster has impacted. "Pray for the family members of those who lived in the building waiting to hear if their loved ones are safe or not," BGEA president Franklin Graham posted on Facebook the day of the collapse. "Our Billy Graham Rapid Response Team chaplains are there to minister to and pray with people in the community and first responders. The Bible tells us, 'God is our refuge and strength, a very present help in trouble' (Psalm 46:1)."
Luis Acosta pastors Pines Baptist Church in Pembroke Pines, Fla., about 20 miles northwest of Surfside. The day after the condo's collapse, he and a group with Florida Baptist Convention (FBC) Disaster Relief visited the site of the disaster to evaluate the needs there. FBC Disaster Relief then put out a call for 50 chaplains and a combination laundry-shower unit.
Acosta told the Baptist Press (BP) that when he was at the site, the family members of the missing conveyed "desperation, the need for hope, the need to hear their loved ones are safe. I've been reading into their looks they're probably wanting any word. It's a search and rescue now, but sooner than later it's going to be a recovery." Acosta said that "barring a miracle…I am expecting the death toll to begin to rise."
David Coggins, director of FBC Disaster Relief, said that the chaplains' ministry will "mainly be a ministry of presence…Our main objective is to provide comfort and support. We want the people, the families especially, to know that they're cared for. We want to provide scriptural support for them when they get news about their loved ones, when that comes. And also if we have opportunities, we want to be able to support the search and rescue, and the first responders."
Belen Jesuit Preparatory Schools and Christopher Columbus High School each held prayer vigils following the collapse; some of the missing people are part of the community of Belen Jesuit. Casa Church, which is less than a block away from the Champlain Towers condo, called on its members the day of the tragedy, requesting prayer and donations of drinks and snacks. The church also offered its building for use by law enforcement. 
Church by the Sea in Bay Harbor Islands held a prayer service Sunday at 10:30 a.m. The church said, "We have set up a donation button on our website and all of the monies collected will go directly to victims. We have also assisted in several other ways and continue to be in touch with authorities regarding assistance. This will be a long process of healing and long after the news cycle ends, we will be there." The church asked people to reach out if they or anyone they know is in need.
In a post the morning of the collapse, Calvary Chapel Miami Beach in Miami Beach said, "Saints! We need you to lift up prayers right now! Merciful Abba Father we humbly seek you and call on Your Name. We need Your Mighty Hand to intercede. We ask for miracles that further glorify Your Name. We need your wisdom. Lead and guide us, show us how to be Your Hands and Feet and bring blessing in the midst of suffering. In Jesus Name! Amen." 
The church held a prayer service later that evening and invited congregants to volunteer Friday to pray for and hand out snacks to first responders. The church held additional prayer services Saturday and Sunday and is also taking donations for the victims. Assistant Pastor J.P. Funk told Christianity Today, "You can see the smoke from smoldering ruins reminiscent of 9/11."