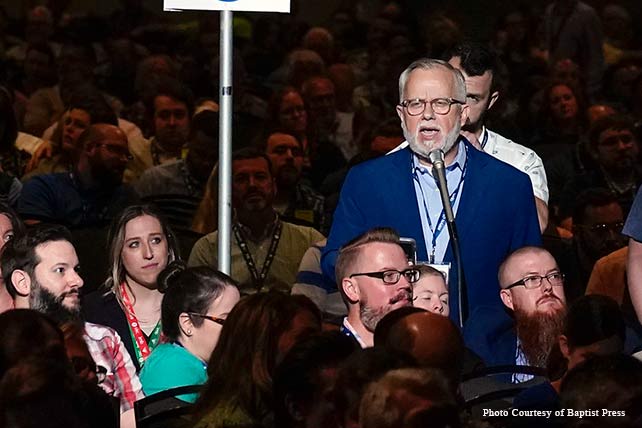 Southern Baptist Convention (SBC) President Ed Litton announced Friday on July 9, 2021, that he has appointed a task force consisting of seven members that will oversee a third-party review of the SBC Executive Committee's alleged mishandling of sexual abuse claims.
The task force was formed by Litton as a result of a nearly unanimous vote by the 15,000-plus SBC messengers last month at their annual meeting in Tennessee, demanding a third-party investigation into the Executive Committee's actions. The passed motion gave Litton 30 days to appoint a task force that will, according to the Baptist Press, "have the discretion to begin its own review or to oversee an independent review already initiated by the Executive Committee."
The task force consists of pastors, law professionals, counseling professionals, and abuse advocacy professionals. Bruce Frank, lead pastor at Biltmore Baptist Church in Arden, North Carolina, will chair the task force alongside vice chairman Marshall Blalock, pastor of First Baptist Church of Charleston, South Carolina.
Former gymnast and attorney Rachael Denhollander, who was the first woman to come forward to publicly accuse former USA Gymnastics doctor Larry Nassar of sexual assault, will serve as the task force's advisor. In addition to Denhollander, pastor, author, and counselor Chris Moles will also serve as an advisor. Both served together on a sexual abuse advisory group constructed by recent President J.D. Greear.
Litton posted the following statement on his Twitter page Friday urging Southern Baptists to pray for the process and task force.
"As your president, few things are clearer than the instructions and responsibilities assigned to me by the messengers at the 2021 Southern Baptist Convention in Nashville, Tennessee. My first priority has been to form a task force independent of the Executive Committee to engage a third party to review the handling of abuse cases. I believe the members of this team are men and women who genuinely pursue God, seek truth, and desire for survivor voices to be heard. They represent pastors, as well as professionals in law, counseling and abuse advocacy. Southern Baptists, I urgently call you to pray for this process and to bear the burden alongside the is task force as they pursue truth, identify issues, and move forward toward greater health in the area of response to abuse."
SBC Task Force Members
Bruce Frank, lead pastor of Biltmore Baptist Church of Arden, North Carolina
Marshall Blalock, pastor of First Baptist Church of Charleston, South Carolina
John Damon, CEO of Canopy Children's Solutions, Jackson, Mississippi, and member of Broadmoor Baptist Church, Madison, Mississippi.
Liz Evan, judicial law clerk at Tennessee Court of Criminal Appeals, Nashville, Tennessee, and member of Hilldale Baptist Church, Clarksville, Tennessee.
Heather Evans, director of Evans Counseling Services, Coopersburg, Pennsylvania, and member of Cornerstone Presbyterian Church in Center Valley, Pennsylvania.
Andrew Hébert, lead pastor of Paramount Baptist Church, Amarillo, Texas.
Bucas Sterling III, senior pastor of Kettering Baptist Church, Upper Marlboro, Maryland.
Litton's Plagiarism Allegations
Litton's first SBC President task force comes in the wake of recent allegations he plagiarized sermons given by former SBC President J.D. Greear. The accusations led Litton and his team to delete over 100 sermons from their church's website and YouTube page. Litton apologized saying he should have given Greear credit, but added he had Greear's full permission to use "chapter-and-verse" breakdown of Greear's Romans' sermon series, a statement Greear confirmed.
The news led to a New York Times article titled "'Sermongate' Prompts a Quandary: Should Pastors Borrow Words From One Another?" The article quotes Southern Baptist Theological Seminary's President Al Mohler as calling Litton's actions "despicable," while notable author and theologian John Piper said Litton's actions were "unthinkable."