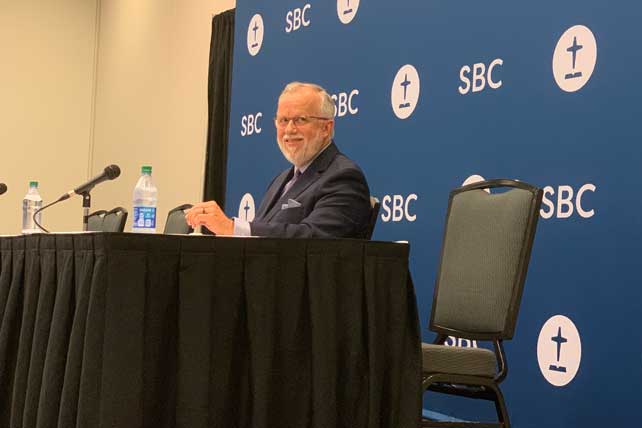 Pastor Ed Litton edged out Pastor Mike Stone by 556 votes in a run-off to become the new President of the Southern Baptist Convention (SBC) on Tuesday, June 15, 2021. The closely watched election had over 13,000 'messengers' (registered representatives from a Southern Baptist Church) who voted at this year's SBC's annual meeting, a record-setting attendance over the last 20 years. The annual meeting rarely sees over 10,000 messengers; it has been reported that over 15,000 messengers are at the Nashville location this year.
When asked if he was surprised that he won the election, Litton told RNS' Bob Smietana, "I want to do whatever I can to help us pull this together. I'm not Superman. I have no magic. But I know this person and his name is Jesus…and they know him, too." Litton said God gave his family peace over the last couple of weeks and said they have been trusting His will.
Who Is Ed Litton?
Ed Litton has been the senior pastor of Redemption Church in Saraland, Alabama, for the last 26 years. Litton had been married to his wife Tammy for 25 years when she was tragically killed in a car accident in 2007. The couple shared three children. Litton remarried Kathy Ferguson, whose husband was also killed in a car accident in 2002. Rick Ferguson was the pastor Riverside Baptist Church in Colorado.
Ed Litton's Presidential Press Conference
Immediately following his win, SBC's president-elect met with reporters and answered questions. Litton shared his testimony and thanked the Great Commission Baptists for trusting him as their new president. He shared that when he was a young boy, seeing the miracle of his father coming to the saving knowledge of Jesus was when he knew "there is nothing that God cannot do."
Litton said he and his wife have felt loved by the SBC messengers and added to the reporters in the room: "This is a family, and sometimes families argue in a way that neighbors get to see it. And that's kind of what you've been witnessing. The reality is, we will leave this place focused [in] I believe a better direction for the future. Part of what I feel God has called me to do in this run for this office is to help us remember again why we're a family and what the focus and objective of our family is, which is to get the Good News of the Gospel of Jesus that so transformed my family's life and personally transformed my life to as many people as can hear it."
The SBC churches cooperate for the purpose of spreading the gospel, Litton said. "There are 4.5 billion people on this planet that we believe have not sufficiently heard the Good News of Jesus Christ, and so we feel like it is our mission to get it to them. That is one of the things that we focus on, and it's one of the things we've got to keep focusing on. Not our division. Not our differences."
"My goal is to build bridges and not walls," Litton said, "to help people connect, talk through things, have honest, open discussions, not shut down those conversations. For all of us to again return to the roots of what God called us to do."
"What's very clear in Jesus' teaching is what he told us we have in the 'Great Commission,' that's what our name comes from." Litton said the commission is "inseparably linked to the 'Great Commandment' — to love God with all your heart, soul, and mind and love your neighbor as yourself." Demonstrating God's love looks like "caring when people in my community suffer injustice," and showing them we love them, Litton said.
"Great Commission Baptists want to be on the frontline of leading people to know a God Who loves them and then by demonstrating the love that's changed our hearts."
Sexual Abuse Investigations
When asked by Houston Chronicle's Robert Downen about how Litton intends to handle the sexual abuse allegations embroiling the Executive Committee of the SBC, Litton said, "I think there needs to be an independent investigation. I think we need to look at it thoroughly and we need to report back in a timely way to the people at the convention." Litton also encouraged being pastoral in how the SBC handles victims. "How we hear them, empathize, and sympathize with them — we want to bring all this out and expose it to the light," Litton said. He emphasized that the SBC needs to "work hard" to make all of SBC churches "safe places."
Does Litton's Win Predict the End of SBC's CRT Panic?
When asked by another reporter whether his election would signal the "end of the great CRT panic in the Southern Baptist Convention?" referring to Critical Race Theory, Litton said, "That's a prediction I can't make."