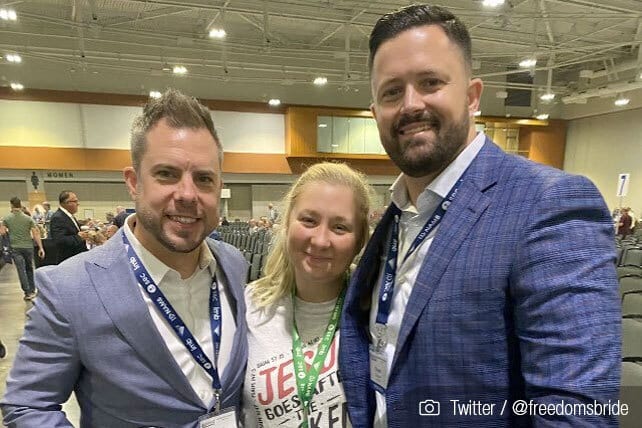 A motion to put an independent task force over the investigation into the Southern Baptist Convention's (SBC) Executive Committee (EC) has been adopted. The news comes after Mike Stone, one of the EC members accused of mishandling sexual abuse allegations, lost the SBC presidential race—and had a controversial exchange with survivor Hannah-Kate Williams. 
"By a nearly unanimous vote #SBC21 voted to approve a far-reaching investigation of the Executive Committee and their actions in regard to sexual abuse," tweeted SBC Voices. Advocates and survivors, such as Tiffany Thigpen, posted tweets celebrating the news:
#Survivors! WE DID IT! #SBC21 Thank you #messengers !!! pic.twitter.com/a2mzp7BJk2

— Tiffany Thigpen (@ThigpenTiffany) June 16, 2021
Pastor Philip Betancourt, a whistleblower who recently released audio indicating top SBC leaders were reluctant to address sexual abuse within the denomination, tweeted, "Huge breakthrough as #sbc21 just overwhelmingly approved the @DGrantGaines motion to have a task force to supervise the third party investigation of the @SBCExecComm. This is an essential step to ensure transparency as we seek the truth!"
The EC posted a statement in response to the news, saying that it "thanks the messengers for their passionate concern." The EC, along with new SBC president Ed Litton, will "work to expeditiously implement today's motion. "
Hannah-Kate Williams Talks With Mike Stone
The motion that the SBC messengers adopted is the work of Grant Gaines, pastor of Belle Aire Baptist Church in Murfreesboro, Tenn., and Dr. Ronnie Parrott, pastor of Christ Community in Huntersville, N.C. Among other stipulations, the motion says that the independent investigation into the EC's alleged mishandling of sexual abuse must be taken out of the hands of EC and given to an independent task force. You can read Parrott and Gaines' motion here. 
Gaines introduced the motion to messengers Tuesday as survivor Hannah-Kate Williams stood by him, and it was then referred to the EC since it deals with internal operations. Wednesday morning, however, messengers overruled this decision and granted Gaines' request not to refer the motion to the EC due to the conflict of interest. The motion was approved for debate and a vote, which took place Wednesday afternoon.
The adoption of Parrott and Gaines' motion is significant because the EC, already under a cloud of suspicion, rejected an opportunity Monday to consider giving greater transparency and accountability to the independent investigation it had commissioned. The actions the EC refused to consider Monday included steps that eight SBC sexual abuse survivors, including Thigpen and Williams, had specifically requested in a signed statement. 
Hannah-Kate Williams had made copies of that statement and was passing them out Monday when she had a disputed interaction with then-presidential hopeful Mike Stone. Williams is a survivor of abuse at the hands of an SBC leader, and a leaked letter written by Dr. Russell Moore has accused Stone of suppressing investigations into sexual abuse within the SBC. 
Writer Jonathan Krohn posted a thread of tweets Monday, saying: "Moments ago, @PastorMikeStone told @freedomsbride — just outside the #SBC21 convention hall — that she was 'doing harm' to the denomination. As she walked away in tears, pastors and messengers came up to shake his hand and wish him luck tomorrow. When I tried to talk to Stone, he took his wife by the arm, saying he couldn't talk as he was going to pick up his kid — saying he only does interviews through a private booking firm."
Hannah-Kate Williams herself told Nation World News, "He said I'm doing more harm than good to the Southern Baptist Convention, and I'm not doing right by survivors, and he said the Southern Baptist Convention is bigger than my problems."
Reporter Chris Moody confirmed parts of Krohn's account: "I saw her a few moments later. Can confirm she was left crying in the hallway of the #SBC21. Messengers came around to comfort her." 
Pastor and author Griffin Gulledge said he arrived immediately after the interaction and witnessed Williams in tears. "I have just left being with Hannah-Kate," he said, "because I walked up immediately afterwards and she was sobbing. Multiple other pastors corroborated. I don't care where you land or what team you're on in this convention, anything short of comforting words for victims is unacceptable."