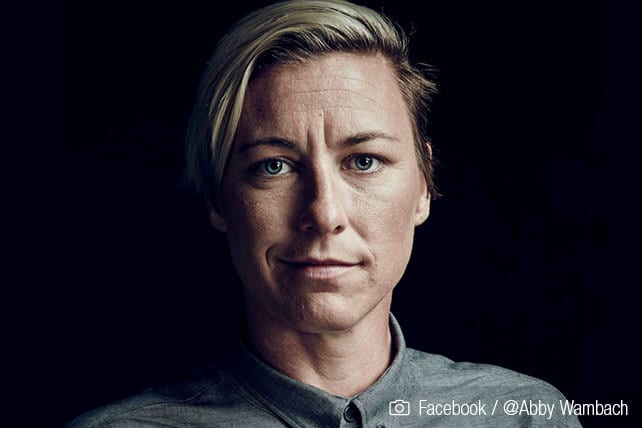 On July 6, soccer champion Abby Wambach appeared on a podcast hosted by her wife, Glennon Doyle, where Wambach opened up about her childhood experience with church. The soccer star shared she is still healing from years of feeling like she needed to make a choice between God and her identity. 
"My first memories of church are actually very beautiful," said Wambach, who was raised in a large, Catholic family. "I remember the music, I remember loving to sing, my feet planted on the pew while holding the back pew in front of me and just belting out the songs." 
As time went on, however, Wambach came to realize that there was a discrepancy between how she felt inside and what the church expected of her. "Slowly but surely," said Wambach, "it wasn't ever something that somebody said…it was a feeling, like an overwhelming sense of understanding both at the same time of who I was inside and who the church expected me to be, and both of those things didn't match. They didn't meet up." The result was, "I understood that I had a choice to make, and it was like, I was either going to choose me or God." 
Abby Wambach: I Chose Myself
Abby Wambach is a two-time Olympic gold medalist and FIFA World Cup Champion, as well as an activist for equality and inclusion. She is married to Glennon Doyle, an author and well-known mommy blogger who was previously married to Craig Melton. 
"I just remember feeling completely seen and held in this community, you know?" said Wambach on the July 6 episode of Doyle's podcast, explaining that she enjoyed going to church even when she wasn't with her family. But the tension between how she felt inside and what the church expected from her increased. Wambach described a moment when she was 16 or 17 and she told a church friend of hers that she was gay. After that, the girl stopped being friends with her. 
"I love the church," said Wambach, "and I loved that community and I loved feeling like I was a part of something. But then when it immediately started to feel like I didn't belong and I wasn't accepted, there was a choice I had to make, there just simply was, and I chose myself from a pretty young age." 
This tension is something that Wambach feels even to this day. She told Doyle, "I was the kid that sat in that pew hating myself for so long and in some ways I still have it in me, you know, I still have homophobia in me."
Abby Wambach's description of her childhood resonates with parts of what Messy Grace Group executive director Caleb Kaltenbach shared with ChurchLeaders on the LGBTQ and the Church Podcast Series.
When Kaltenbach was young, his mother and father divorced, after which they both came out and became activists in the gay community. When Kaltenbach saw the hatred his parents experienced from Christians, he decided he could never have anything to do with Jesus. But he encountered Jesus at a Bible study in high school and now helps churches and other organizations to welcome LGTBQ people without compromising Scripture. 
"Nobody is going to leave one community and make their church their primary community if they don't feel safe there or comfortable there," said Kaltenbach, noting that God, as "the most empathetic being in the entire universe," is our example of how to sacrifically love people who are different from us. "We have to be willing to be uncomfortable."  
To be clear, both Glennon Doyle and Abby Wambach believe that for people not to affirm a gay identity is inherently un-loving. But the radical love of God for us, no matter how broken we are, is something Doyle said she has never doubted. She described being "stoned out of my mind," yet still aware that God loved her totally and unconditionally.