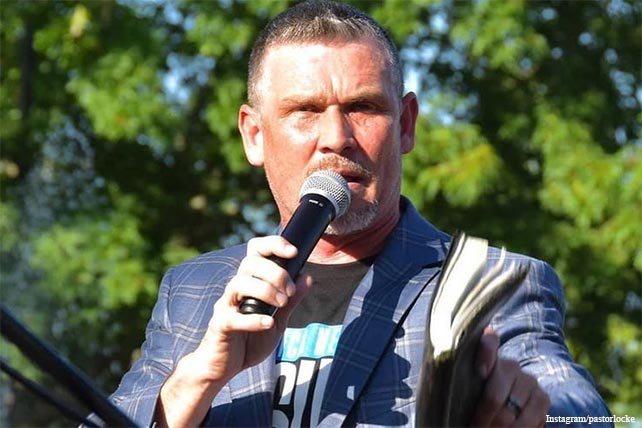 Controversial pastor Greg Locke of Global Vision Bible Church in Mount Juliet, Tennessee, made his thoughts clear about recent government murmurs of a second lockdown due to the uptick in COVID-19 resulting from the Delta variant.
Preaching a sermon out of Luke 24:13-32 titled "Holy Heartburn," Locke told his congregation on Sunday: "Here's what the left has told us every week, 'If you comply, if you compromise, you'll get in our good graces.' " Locke went on, "No! Because you will never comply enough. You will never compromise enough. You will never get in the good graces of godless people because all they want is compliance!"
Locke rejected the notion of shutting down the church, saying, "My hind leg if they think they gonna shut this church down. I'm gonna go and let you know that right now, in the name of God."
"They will be serving Frosties in hell before we shut this place down. Just because a buck-wild, demon-possessed government tells us to."
"If they go through round two and you start showing up with all these masks and all this nonsense, I'll ask you to leave," Locke said, as congregants stood and shouted in agreement. Locke repeated: "I will ask you to leave! I am not playing these Democrat games up in this church. If you want to social-distance, go to [another church], but don't come to this one. I'm done with it! I ain't playing these stupid games!
Related article: Pastor Greg Locke's Fiery Easter Sermon–'Take Them Stupid Masks Off'
Locke then called out other pastors who are already taking precautions because of the Delta variant. "Bunch of pastors talking about how much they want to see people healed," he said. "They're afraid to baptize because of a Delta variant. I'm sick of it!"
"My hind leg they gonna shut us down," Locke repeated, then warned listeners not to believe government officials who closed the nation the first time. "They know who's going to be a problem and they know who they can control…I'm going to be a 'problem' moving forward. I'm not giving into this mess."
"I'm not going to play their games."
The pastor extended an invitation for others to join the church's growing campus, saying, "So when all hell breaks loose and all these cowards start with this round-two business…we'll take ya."