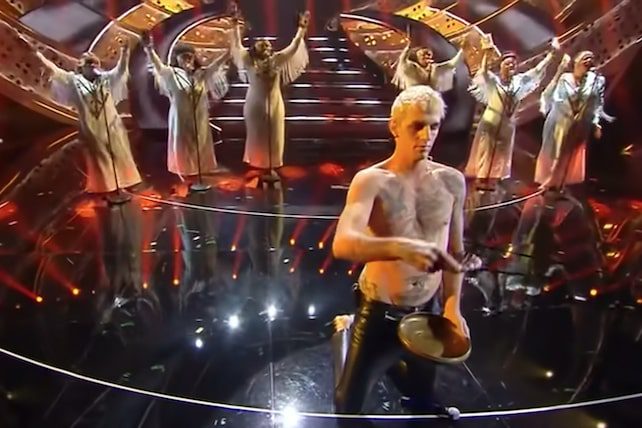 VATICAN CITY (RNS) — It's been some years since a singer posing as the Virgin Mary on an album cover or cavorting with a priest in a music video could get a rise out of the Vatican. Even a 2019 Netflix series dramatizing what Vatican insiders call a nonexistent rivalry between two popes was largely shrugged off.
The latest to poke Catholic sensibilities is Italian rapper Achille Lauro, born Lauro De Marinis. Already known for his attention-grabbing shenanigans — his stage name is taken from a fatal ship highjacking in the 1980s — Lauro opened Italy's annual music film festival of Sanremo on Tuesday (Feb. 1) by mimicking the sacrament of baptism in front of a cheering crowd.
At the end of his new hit song "Domenica" (Sunday in Italian), Lauro knelt in prayer and used a baptismal shell to pour water over his face and bare, tattoo-covered chest. The Harlem Gospel Choir from New York accompanied his performance, which was broadcast on Italy's national television channel RAI, as Lauro moaned and grabbed the crotch of his leather pants.
The reaction among Italy's Catholic majority was outrage, and the local bishop, Antonio Suetta, claimed Lauro's mock baptism was "not just offensive to religion, but to human dignity."
Even the head of the Italian exorcists association, the Rev. Paolo Carlin, jumped into the fray and suggested "an act of reparation" — a prayer to expiate the sins of others — be done, even as viewers "get drunk on emptiness and triviality," the priest said.
But amid the general indignation, the Vatican stayed quiet, until comedians and media commentators began speculating about the official silence. Finally, in a statement on Wednesday, Andrea Monda, editor of the Vatican newspaper L'Osservatore Romano, offered what he characterized as a "tiptoed" response.
"We limit ourselves to observing that, in wanting to be transgressive at all costs, the singer fell back on Catholic imagery," Monda wrote. While borrowing Catholic tropes to take whacks at the church is "nothing new," he noted, others have done it better.
The Vatican "can never forget" David Bowie's 1992 stunt, Monda wrote by way of example, when "a great rock artist" knelt in prayer before 72,000 fans to recite the Our Father at London's Wembley Stadium to honor rock icon Freddie Mercury, who had died of an AIDS-related illness months before.
"They don't make provocateurs like they used to," Monda said.
RELATED: Pope Francis called pet owners selfish. An animal chaplain says he sells love short.
Lauro is only the most recent in a long list of artists who have violated Catholic sensibilities, incurring backlash. In 1992, the Irish singer Sinead O'Connor tore up a picture of now St. John Paul II during a performance on "Saturday Night Live."
Pop icon Madonna borrowed generously from Catholicism. Italians were shocked when she posed as a crucified Christ while performing in Rome during her 2006 Confessions tour. That same year, rapper Kanye West posed with a crown of thorns on the cover of Rolling Stone magazine.