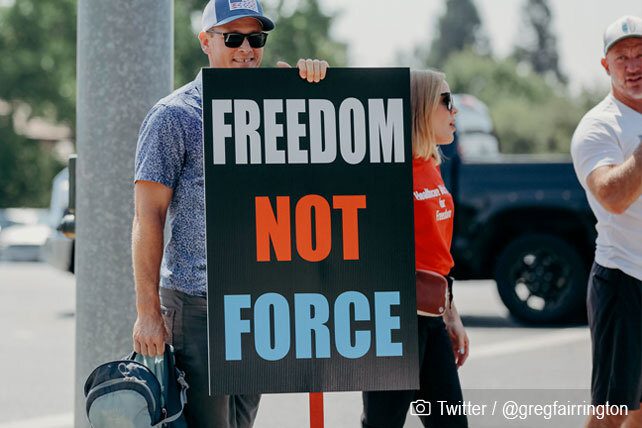 As ChurchLeaders has reported, some U.S. pastors are distributing letters that grant religious exemption from COVID-19 vaccinations. But while those documents may contain valid points about a congregant's personal beliefs, experts say they probably won't hold up under legal scrutiny.
The increased interest in seeking religious exemption comes as more employers (as well as schools, churches, and entertainment venues) require proof of vaccination against the novel coronavirus. Lawmakers have become leery of religious exemption arguments against COVID shots, saying they're often a cover for political positions and anti-vaccine stances. Pastors and religious liberty organizations, however, say they're helping parishioners stand up for their God-given freedoms.
Religious Exemption: What Federal Law Says
Based on updated guidance from the Equal Employment Opportunity Commission (EEOC), employers can legally mandate COVID vaccines for workers returning to on-site jobs but must provide "reasonable accommodation" in certain cases.
The EEOC states: "An employee who does not get vaccinated due to a disability (covered by the ADA) or a sincerely held religious belief, practice, or observance (covered by Title VII) may be entitled to a reasonable accommodation that does not pose an undue hardship on the operation of the employer's business." Examples of accommodations include wearing a mask, social distancing, COVID tests, telework, and reassignment.
Pastoral letters requesting religious exemption from COVID vaccines are unlikely to have legal standing, according to labor attorneys. Mark Spring tells Baptist News, "That you can simply say, 'I'm morally compromised,' or 'I don't want to take the vaccine,' … that would not qualify in my view if challenged or tested by employer or government agency." As a result, says attorney Joshua Van Kampen, "Churches should not be handing out these accommodation letters like lollipops."
Churches Use a Variety of Religious Exemption Arguments
To support the honoring of religious exemptions, churches raise points about being pro-life, about one's body being God's temple, and about the vaccine's possible risks. At Destiny Christian Church in Rocklin, Calif., lead pastor Greg Fairrington insists he's "not anti-vax but…pro-freedom." Last summer, when the pastor ignored pandemic-related restrictions, he said, "I believe my mandate as a pastor is to obey the Word of God."
Freedom House Church in Charlotte, N.C., also is providing religious exemption letters, saying it's "despicable" to force an "unproven" vaccine on employees and citizens. And Micah Beckwith, pastor of Life Church in Noblesville, Indiana, says, "People have been reaching out to me and saying they don't feel like this [COVID vaccine] is right for our body. This is not an anti-vax thing… This is people wanting to make the decision that they feel is best for their own health."