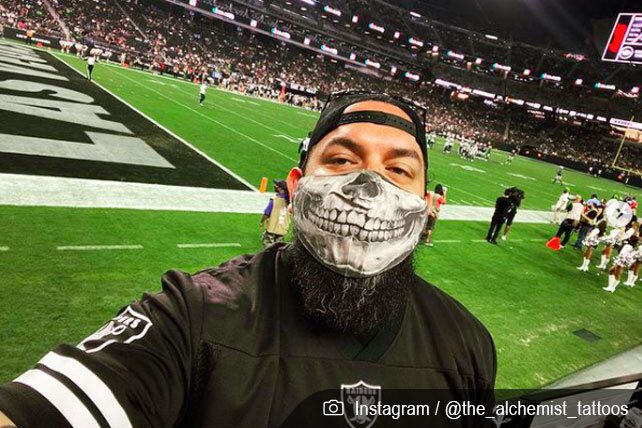 An increasing number of businesses, restaurants, colleges, and churches are requiring attendees to show proof they've been vaccinated against COVID-19. Now football fans in Las Vegas must do so also. In a first for an NFL team, the Las Vegas Raiders announced this week that all attendees at home games this season must have received COVID shots.
Medical and religious exemptions are not being granted. The Raiders join the New Orleans Saints, who will require either proof of vaccination or a negative COVID test taken 72 hours prior to the game.
Las Vegas Raiders Owner: 'We're Still in the Middle of a Pandemic'
The upside, says Raiders owner Mark Davis, is that Allegiant Stadium "will be able to operate at full capacity without masks for fully vaccinated fans for the entire season." The team plans to use the free mobile app CLEAR, which has a Health Pass feature. On-site shot clinics also will be available, and newly vaccinated fans may enter the stadium if they wear masks. Children under 12 who aren't yet eligible for vaccines may attend but must wear masks.
The Raiders, who recently moved to Las Vegas from Los Angeles, established the mandate after Nevada Gov. Steve Sisolak signed a new emergency directive. "Health and safety [have] always been our number-one priority," says Davis. "I think people forget we're still in the middle of a pandemic. It's not over yet."
The owner says the stadium's previous mask mandate "hasn't worked that well," and switching to a vaccine mandate removes guesswork for fans. Describing his own experience watching a game, Davis says, "I was eating and then forgot for a while" to put the mask back on. "I'm guilty as well."
Davis admits the decision won't be popular with everyone. "We're not a political party. We have all kinds of people here," he says. "We're diverse, and we don't want to lose any fans." About the safety precaution, he adds, "If it's not you, it might be the person sitting next to you we're keeping healthy."
The vaccination policy takes effect September 13, when the Baltimore Ravens visit Las Vegas for the regular season's first Monday night game. Ticket holders who don't choose to get vaccinated can receive full refunds or credit for next season.
Raider Nation Offers Mixed Reactions
Fans of the Silver & Black are split about the vaccine mandate. Some say they agree with and appreciate the Las Vegas Raiders' decision, while others call it embarrassing and accuse the team of selling out.
Season ticket holder Jillian Diaz, who now travels from LA to attend Raiders home games, says being able to cheer for her team in person is what "really pushed me into getting the vaccine" recently.