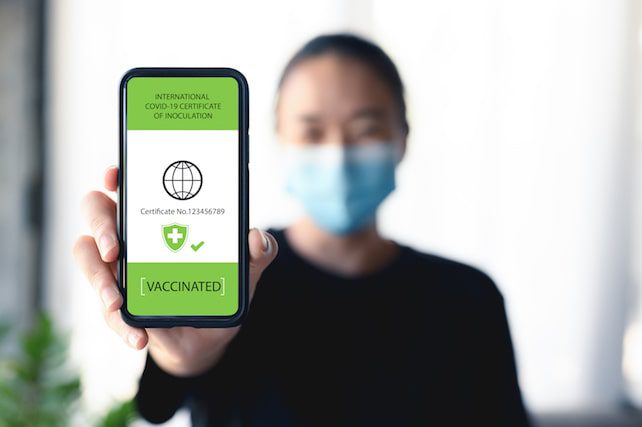 As the "fourth wave" of COVID-19 continues sweeping through America, faith leaders again face tough decisions about safety protocols—and some have decided to require proof of vaccination.
Although many congregations had resumed in-person, masks-optional worship after vaccines became widely available, updated CDC guidance urges renewed caution. Because of the highly contagious Delta variant, the CDC now recommends indoor mask-wearing—even for vaccinated individuals—in areas of "substantial or high" virus transmission.
The ever-changing pandemic landscape means churches, schools, businesses, and communities must keep adapting as well. But politicization of the virus, vaccines, and masks adds extra challenge and emotion to safety-related decisions. More lockdowns and mandates will likely mean more court challenges, too. Late Thursday, the U.S. Supreme Court allowed Indiana University's vaccine mandate to remain in effect.
Atlanta-Area Churches: Show Us Proof of Vaccination
Southern states, where COVID vaccination rates tend to be lower, are being hit particularly hard by this wave. In several areas, health care workers and facilities are now overwhelmed. The worsening situation has led several Atlanta-area churches to limit in-person services to vaccinated worshipers. In Bankhead, Georgia, Mount Ephraim Baptist Church is requiring proof of vaccination and indoor mask-wearing.
People who show up to The Greater Piney Grove Baptist Church on Sundays must show proof of vaccination, have their temperature checked, and sign a waiver. "We are not apologizing for being the most cautious and conservative during this period," says the Rev. William Flippin Sr., who leads the church of about 3,000 active members. "We said we were going to follow the science."
In Mississippi yesterday, two pastors held a news conference urging state officials to implement a precautionary mask mandate. And in Jacksonville, Florida, Pastor George Davis of Impact Church says he's tired of battling misinformation and burying congregants who've died from COVID. Davis, who has held two vaccine drives at his church, says, "I don't believe that doctors and scientists, no matter how much schooling they go through…can come up with cures and fixes for the body without a divine presence, God almighty, giving them that wisdom."
Other Churches Fight Mandates, Offer Religious Exemption Waivers
Because some people are trying to sidestep vaccine mandates by claiming religious exemptions, congregations that champion liberties are pitching in. Freedom House Church in Charlotte, North Carolina, says it will provide members with a religious exemption to avoid vaccine mandates from employers, schools, and the military. Pastor Penny Maxwell explains that people must already be in the church's system; otherwise, they should ask their own pastor. "If they won't give you one," she writes on social media, "find a new church!"
"It is despicable for a business or government agency to force someone to take a vaccine that is unproven, dangerous, and not fully tested," Freedom House states. "The public pressure on organizations and individuals to conform has positioned our nation to blindly follow ever-changing demands that are non-sensical and harmful. Shame on anyone who echoes the call for this socialistic groupthink and compliance. It is embarrassing to our great legacy of freedom."
Michael Morrison, an employment attorney in Charlotte, says calls are pouring in about vaccine mandates. The question to consider, he says, is this: "Because of your association or identification with that religion, how does that relate to you now being exempt from a vaccine?" Several North Carolina school districts no longer allow religious exemptions for mask mandates.
Regarding masks, Outreach editor-in-chief Ed Stetzer says churches located in "hot spots" should consider requiring them again. "You don't want to be part of the problem," he says. "You want to be part of the solution."
'Pastors Are Very Stressed by This'
The pandemic's variable nature and the public's response to health-related decisions are causing anxiety for church leaders. "The risk for pastors is, if I make a shift, I lose people," says Keith Myer, a pastor in Maryland. "It's hard to know what's the right move here." Myer, who's awaiting updated guidance from local authorities, tells the Washington Post, "I've got several degrees, but I'm not a scientist. Pastors are very stressed by this."