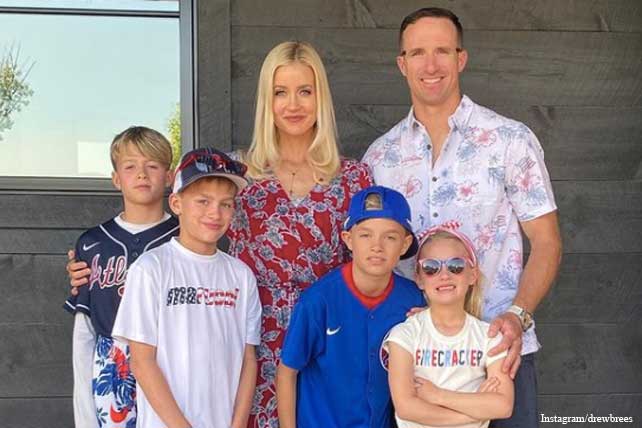 Recently retired, record-setting NFL quarterback Drew Brees is partnering with Pray.com; the world's number one app for daily prayer.
According to its website, the app provides encouragement and inspiration through daily prayers, pastor podcasts, and Bedtime Bible Stories and boasts over 10 million listeners.
Brees spent 20 years in the NFL as a quarterback, and this year will help kick off a brand-new series titled 'Faith and Football' just in time for the NFL's opening game on Thursday.
The 2010 New Orleans Saints' Super Bowl MVP recorded motivational prayers and bedtime Bible stories for the series. The app allows fans to encourage teams by letting them know fans are praying for them.
Sharing that he is proud to partner with with Pray.com, Brees said, "I make prayer a priority in my life and Pray.com is my inspiration each and every morning as I start my day."
Related article: 12 NFL Players Who LOVE Jesus (and Football)
Co-founder and CEO Steve Gatena said, "We are thrilled to partner with Drew, who is an exceptional leader both on and off the field. We are supporting the most faithful fans throughout this NFL season and beyond with Pray.com's locker room prayers and inspirational audio content narrated by Drew Brees."
Pastor Jeff T. Osborne from Destiny Church in Indio, California, will provide a locker room prayer for each NFL team (32) on the app.
Brees re-signed with a new team for this season, but instead of throwing the pigskin on the field to Michael Thomas and Alvin Kamara, he will join NBC's 'Football Night in America's' studio desk team Mike Tirico and Tony Dungy.
Related article: Drew Brees Blames Misleading Headline for Bring Your Bible to School Day Criticism
Unlike his former teammate, the outspoken Christian and pro-life activist Benjamin Watson, Brees has been more subtle about his faith. He started a foundation with his wife Brittany called the Brees Dream Foundation in 2003. The foundation has raised over $45,000,000 and is dedicated to "improving the quality of life for cancer patients, and provide care, education and opportunities for children and families in need."
Brees Announced His Retirement
When the father of four announced his retirement earlier this year after two decades in the NFL, he said, "After 20 years as a player in the NFL and 15 years as a Saint, it is time I retire from the game of football. Each day, I poured my heart and soul into being your quarterback. Til the very end, I exhausted myself to give everything I had to the Saints organization, my team, and the great city of New Orleans. We shared some amazing moments together, many of which are emblazoned in our hearts and minds and will forever be a part of us."